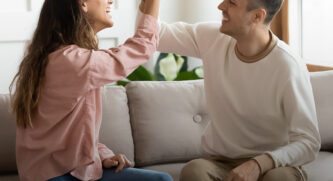 Homeownership can seem far too stressful in the evolving marketplace. Although mortgage interest rates doubled in 2022, homebuyers shouldn't let mortgage myths discourage them from shopping.1

At Plains Commerce Bank, we work with you to develop a personalized plan. You'll know what to expect throughout our process. As a local lender, we provide useful insights that online lenders don't always know. Consider components we've identified before signing a lease to understand why homeownership is a long-term investment.
Ownership & Mortgage Loans
Owning a home is a major investment that can be personally and financially rewarding. Homeownership requires most people to take out a mortgage loan, money borrowed for real estate. Mortgages aren't one size fits all; some options result in different outcomes.
One of the biggest advantages of homeownership is the opportunity to build equity. Over time your home can increase in value, which improves your financial portfolio, allowing buying power in future investments. Additional advantages include…
Making Consistent Payments
After you've purchased a home, the monthly mortgage payment won't be subject to fluctuations in the economy, unlike renters' leases which are subject to annual changes. In 2021 rent increased an average of 11% across the United States and continued to rise in 2022 with variation between cities.2 Fixed-rate mortgages protect homeowners from increased payments.
Receiving Tax Benefits
Homeowners may qualify for tax deductions, saving them hundreds of dollars annually. Factors like mortgage interest and property taxes can contribute to savings. Consulting with a tax professional such as a certified public accountant, helps homeowners receive benefits unavailable to renters because they aren't paying toward ownership.
Controlling Your Surroundings
Making home improvements allows owners to customize each area while adding potential value to their homes. Personalization is limited for renters, and they don't receive a return on investment (ROI) from improvements like owners might. Speaking of control, renters may lose their space to development, but homeowners ultimately decide when to sell.
If you aren't sure where to start or what questions to ask, our mortgage team is here to help.
We'll walk you through everything you need to know throughout the home-buying process.
Preparations & Decision Making
For those comparing life with a lease to homeownership, know that the investment opportunities aren't the same. Choosing a path depends on where you're at in life. In the long run, renting doesn't build equity as mortgage payments do. Focusing on financial security is one approach to the decision-making process. Don't assume you can't afford a home and fail to explore your options. Moving forward, you should look into the following…
Home buyers may receive lower interest rates on mortgage loans for a strong credit score.
Knowing the cost of your mortgage will help you determine how to budget moving forward.
Learning first-time buyer tips like getting pre-qualified can save you time and money. It's important to make a decision based on your long-term goals, and you don't have to do it alone. We welcome questions and are proud to be a helpful ally in the home-buying experience. With guidance from Plains Commerce Bank, you can invest in the future you want.