Digital Debit Card

Simplify Your Shopping Experience
Using your Plains Commerce Debit Card is now as easy as pulling out your phone.
Make purchasing easy, secure, and convenient-
online and on the go.
Our Digital Debit Card is simply that-a digital version of your card stored in an app on your mobile device. Your Digital Debit Card allows you to make purchases with just your phone instead of an actual physical card. It's as simple as touching your phone to the payment terminal to make your purchase. You'll also be able to utilize your Digital Debit Card for online and in-app purchases.
Pay Securely: Your Digital Debit Card replaces your actual card number with a unique digital number. Meaning businesses will be unable to see or store your full card number.
Ease of Use: Your Digital Debit Card is always with you as long as your phone is too. Payments can be made within seconds as you confirm your identity with a PIN, fingerprint, or face scan-and tap to pay at participating businesses.
Hygienic: Your safety is our priority. By offering a form of contactless payment-we're hoping to keep you a little more protected from the world around us.
Which Mobile Wallet do you prefer?

At Plains Commerce Bank, we offer the following:

Setup is simple.
Get access to your Digital Debit Card today! Head to your app store and download the wallet app (if not already installed on your device) and input your debit card information.
To access your Digital Debit Card within your mobile wallet:
Log-in to your device's wallet app (Apple Pay, Google Pay, Samsung Pay)
Your device's wallet app will give you the option to add a new debit card and prompt you to enter the required information
Wait for approval that your card has been added successfully-which usually only takes a few moments
Learn more about Digital Debit Cards in this quick video series: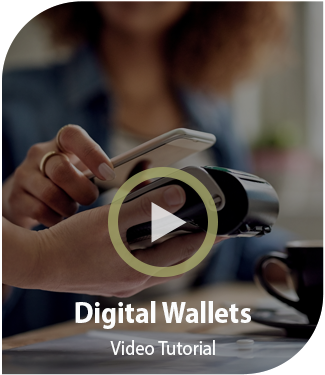 ---
Frequently Asked Questions
Is there a cost to utilize the Digital Debit Card service?
If I add my Plains Commerce Bank debit card to a digital wallet, am I still able to use my physical card for purchases?
Where can I use my Digital Debit Card?
(i) Additional terms and conditions may apply.
(ii) Messaging and data rates may apply.