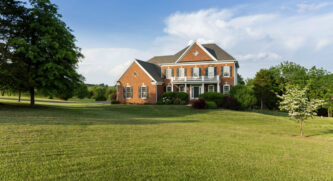 Top 3 Reasons to Shop Locally for Your Mortgage
Finding the perfect home is only the first of many steps in your journey to being a homeowner. After deciding you've found the right one, you still have to find the right home loan to pay for it.
Shopping for a mortgage exposes you to everything from online to local lenders, each with its own perks and features. However, local banks offer benefits that online lenders can't—without sacrificing your time or convenience.
1. Familiarity
As part of your community, local banks know where you're coming from. You're more than a customer. You're a fellow sports fan, grocery-store-goer, and neighbor.
Getting your mortgage locally results in a customized process that truly fits your unique needs. You work face-to-face with bankers who take your home search personally: asking questions to find the mortgage that fits, and then going the extra mile to make it happen.
With online lenders, it's easy for your application to get lost amongst all the others. Online sites surfaced in response to homebuyers' search for convenience, but at the cost of personalization. Getting a mortgage online therefore makes you part of a standardized procedure, rather than a customized process.
2. Faster Process
When you've finally found the perfect home, there's no time to lose in purchasing. The local decision-making that occurs in most community banks keeps loan approval processes moving more quickly.
Smaller banks cultivate a deeper understanding of their community and regional economy, learning the financial landscape and how best to navigate it—in any situation. And, since they already know you, they can make personalized recommendations in less time than online lenders.
Local bankers can also keep you informed as your loan moves through the approval process. With less applications to sort through than online lenders, your banker can personally track your loan's progress, let you know of any holdups, and partner with you—in person or over the phone—to be as efficient as possible.
3. Flexibility
All financial procedures come with guidelines and criteria, and mortgage loans are no exception. Online lenders, with vast amounts of applications, often lack the capacity to work outside those guidelines. As a result, homebuyers who don't meet every criteria risk not qualifying for a loan.
Local banks adhere to different loan approval criteria that allow them to be more flexible. For example, some will keep mortgages on their own records, rather than selling to government-sponsored enterprises Fannie Mae and Freddie Mac. This relaxes their guidelines and can help homebuyers who perhaps don't qualify with larger banks, such as those with lower credit scores or irregular income.
Online lenders typically base loan eligibility on FICO scores. And while local banks do, too, most of them will look more closely at your assets and other income when determining your ability to make mortgage payments. As mentioned above, local bankers know your situation and know where you're coming from—and that helps them help you.
Let's do this together.
Who better to help you arrive at your dream home than those who know your journey? At Plains Commerce Bank, we know that finding the right home loan can be intimidating. That's why we're here. Work with our mortgage experts for the best possible experience.
Stop in or contact us today!
Sources