Transfer the Cents

Saving Made Simple
Make savings easy and automatic by rounding up each debit card transaction to the next whole dollar amount. At the end of each day, the "cents" from your purchases are directly transferred into the account of your choice.
3 Reasons to Save with Transfer the Cents:
Save time, money and stress
The more you shop, the more your save
Everything is automatic-so saving is effortless
How does it work?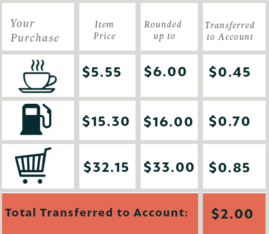 (i) Additional terms and conditions may apply.
(ii) Messaging and data rates may apply.
Personal Banking Team