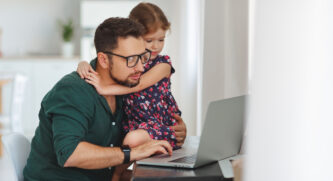 When you first begin your home search, one of your initial steps will likely be getting pre-qualified for a mortgage. Pre-qualification will let you know how much a bank will lend you. The process is typically free and can make home sellers take your offers seriously.
After you obtain a pre-qualification letter, what's next? Should you shop for homes that cost as much as the amount you pre-qualify for?
While it may be tempting to up your price range to get that extra bathroom or those granite countertops, more than likely, you'll be happier in the house you can afford. The bank doesn't know your budget in its entirety. Only you do.
How large of a home loan can I afford?
"Many consumers have different financial situations and it also depends on your income," says Plains Commerce Mortgage Banker Chris Vinson. "If there is one debt that I think is okay, it's house debt."
When starting your house-hunt, have an idea of what you are comfortable spending on a mortgage payment every month. If your pre-qualification amount is more than you think you'd like to spend, go with what you feel you can afford while maintaining your standard of living.
You don't have to spend as much as the bank is willing to lend you.
"Consumers must also understand how a lender looks at their income," says Chris. "They don't look at net pay, but rather your gross income—earnings before taxes and deductions."
Don't forget to take your current debts into consideration. "As long as your current debts, including the new home loan, don't exceed a debt-to-income ratio of 43%, lenders are typically comfortable with that ratio," says Chris.
How do you add a new mortgage into the budgeting mix?
If you're already a homeowner, you'll likely have a good idea of what your new home will cost. If you are renting, think about how much you pay for rent. Now think about how increasing that number will impact your budget. Are you comfortable with your rent amount for a house payment knowing that unexpected housing costs may happen?
"Unexpected costs always seem to pop up for homeowners," says Plains Commerce Mortgage Banker Dawn Van Nieuwenhuyzen. "Have one month's pay in a savings account set aside for the unexpected."
If you've never created a personal budget, now is the perfect time to start one. Many tools exist, beyond spreadsheets, to help you track income and expenses. And chances are that the pre-qualification process has already helped you get a jumpstart on analyzing your finances.
"Try to keep your total house debt within 30% of your budget," says Chris. Also, budget for utilities, home insurance, property taxes, and mortgage insurance if you don't have a 20% down payment.
What other steps can homebuyers take to ensure their financial success in the future?
How can you make homeownership even more rewarding? Ensure all parties involved are communicating. Also, make sure you are staying on top of your budget.
Don't let your home take place of your hobbies and ambitions. "Are you able to still do the things that you like to do, and save between 10–20% of your income?" says Chris. "Don't stretch your budget. Allow for a little wiggle room because homeownership is a little more expensive, but it is a win in the long run."
Also, if you cannot afford repairs, it may not be best to settle for a home that needs a lot of them up front. When you get pre-qualified for a loan, even if you don't buy a home that's worth the full amount, the bank will still only lend you the price you pay for your home. They will not provide additional funds for home repairs. If that's something you want to do, a construction loan may be a good option.
Going with a bank that offers several loan options allows you to get what you need to be a happy homeowner.
Finally, sit down with an experienced mortgage banker. Then review everything. If you want to review your options or need help starting the pre-qualification or loan process, talk with us.