Wire Solutions
The way to send money, faster.
As a business owner, we know time is of the essence. Move your money faster and more securely with our Wire Solutions. Utilizing this service will provide your business with a fast, highly-secure transfer system for moving funds to and from accounts at other financial institutions. Bank-to-bank wire transfers are the safest payment method - allowing you to maintain control of available funds while reducing the time and expense of writing and processing checks.
Who can benefit from Wire Solutions?
Businesses that would like to quickly and securely run funds through financial networks and/or banking relationships
Businesses looking to reduce credit card charge-back and non-sufficient funds activity
Businesses sending or receiving payments internationally
How can Wire Solutions help your business?
Ease of use: option for template creation for repetitive payments
Efficiency: the fastest way to send money
Security: multiple layers of security as well as the ability to configure user permissions and transfer limits
Reporting: notification system that delivers a proof of payment sent or received for accurate record keeping
Learn more about Wire Solutions in this quick tutorial.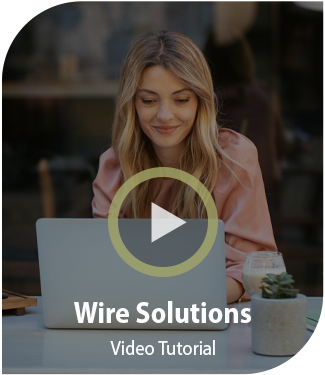 Talk to one of our bankers about the best solutions for your business today.
Start Here
Business Banking Team