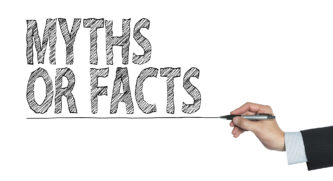 Buying a home is an important (and sometimes overwhelming) decision. You likely have a few questions or have heard some things from others who have recently purchased a home. While many people can give mortgage advice, be sure to turn to an expert with your home financing question.
A professional mortgage lender not only knows the industry but can help dispel some common myths about mortgages. Here are three we hear often:

Myth #1: You have to have a large down payment to buy a home. Not true! There are a multitude of different loan programs available and each lender has their own guidelines. If a large down payment is not an option for you, you may want to consider an FHA (Federal Housing Administration) loan that requires as little as 3.5% down. And, there are many other factors that determine what type of loan will work best for you.
Myth #2: A 30-Year Fixed Rate Mortgage is always the best loan option. Not necessarily...It really depends on your personal goals. For example, if you only plan on staying in the home for a few years, you may get more value out of a hybrid Adjustable Rate Mortgage.
Myth #3: My interest rate will tell me how much I'll have to pay on the loan. Not true. We actually want to look at the Annual Percentage Rate (APR) when comparing different loan programs. The APR includes the interest rate, points and any other applicable fees, so we can look at the pros and cons of each program side-by-side. Sometimes a lower APR requires more cash up front.
With so many misconceptions about mortgages out there, home financing can seem daunting. But at Plains Commerce Bank, we've boiled it down into 7 simple steps and made it as easy as possible for your convenience.
Have questions?
We're always happy to help. Visit one of our locations, contact us online, or call our team at 1-877-227-7548.
All credit and loan products are subject to credit approval. Loan programs subject to qualification.