Personal Savings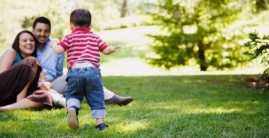 The Freedom to Meet Your Goals
Everyone's saving for something. Whether it's saving for your child's future or a dream vacation to the Bahamas, you have a goal (or two or three). And it's our job to help you get there.
Our team of professionals can help you grow your finances with a customized savings plan that will get you working toward your goals, no matter what phase of life you're in.
It's your money. And it's time to put it to work. Select the savings option that fits your needs, or contact one of our personal bankers today. We're here to help you meet your goals.
Personal Banking Team