Investment Management Services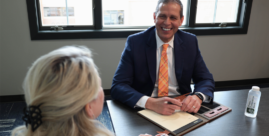 Investing In You
At Plains Commerce Bank, we provide more than solutions. Whether you're building your wealth, thinking of your family's future, or just want options, we're here to help you make informed investment decisions.
We offer a range personal, individual investment management services:

Portfolio Diversification
Risk Assessment and Management
Active Monitoring
Financial Goal Alignment
Continuous Communication
Sioux Falls, SD - West 49th
Only deposit products are FDIC insured. Investment Products are not FDIC insured, not a deposit or other obligation of the bank, not insured by any federal government agency, not guaranteed by the bank, and may lose value.