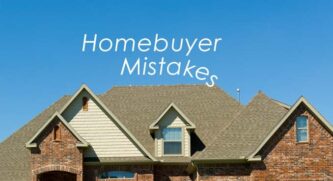 A lot of work goes into searching for and buying a home. You need to choose a dang good realtor and a knowledgeable mortgage banker in this seller's market, too. So where do homebuyers go wrong? Plains Commerce Bank mortgage bankers share where homebuyers tend to make mistakes.
Searching for a Home
Mistake #1: Looking at houses before getting pre-qualified
Homebuyers end up getting their hearts broken because they can't finance their perfect house. You can save yourself heartbreak (and time) by getting pre-qualified for a mortgage. Prequalification will tell you what financing options you qualify for and determine how much home you can afford. Also, remember just because you can receive a certain amount of funding, that doesn't mean it's what you can afford. Think about what you're comfortable with when it comes to monthly payments. Take hidden expenses into account, such as monthly utility bills, too.
Mistake #2: Starting their search at the top-end of their budget
Higher priced homes almost always show better than lower priced homes. It's tough to compare them. Start your search for homes at the lower end of your budget. Do you need 2 bathrooms and 3 bedrooms, but everything else is a plus? Start with this criteria for your base search, and work your way up from there.
Buying a Home
Mistake #3: Choosing not to do a professional inspection
Issues that come up later almost always end up costing more than an upfront inspection. In a seller's market, some realtors may pressure you to skip this step. Be skeptical here. You may not notice foundation issues, roof leaks, mold, infestations, or other problems simply walking through a home. A trusted professional home inspector should catch of all these things (and then some). If issues arise post inspection, you may ask the current owner to fix them or lower the price of the home, too. That doesn't mean they will, but at least you'll know what you're dealing with.
Mistake #4: Not researching real estate taxes for individual properties
Your actual house payment may be higher than anticipated due to real estate tax rates. Research different areas of town so you know what to expect. If the rates are too high when factoring in your expected monthly mortgage payment and homeowner's insurance, you may need to consider a different property. Talk with your realtor or mortgage banker about how to calculate tax payments on your prospective home.
Choosing a Realtor
Mistake #5: Not knowing how qualified their realtor is
You want to make sure your realtor is knowledgeable and will work for your best interests, not theirs. Talk with trusted family members, friends, and coworkers to see if you can get a personal recommendation. Then go online and see if you can find reviews for the real estate agent you're thinking about using. Finally, call the agent and ask if they're willing to provide references.
Mistake #6: Not matching personality and communication styles with their realtor
Your realtor may not meet your expectations if he or she doesn't match your communication style or personality preferences. When you call or meet with a potential real estate agent, ask about his or her home search process. Some big name agents may have you communicating with assistants or other agents when they're busy. You have to be okay with that. Other agents are one-on-one and almost over communicative (which can be a good thing).
Choosing a Lender
Mistake #7: Not using a local lender in the market they are buying in
Experienced local lenders know their market. Their loan estimates and turn around times for loans items are going to be more accurate than out-of-state lenders. This will help you better plan for potential expenses.
Mistake #8: Not verifying the lender they use offers all programs available
You might be missing out on a program that is better suited for your personal or financial situation. There are many types of mortgage loans. Ask the lender you're considering about what they do and don't offer. Have them explain the benefits and downsides of options to you, too.
Don't rush the home buying process. Avoid these common faux pas and set yourself up for a happy homeownership experience.