Bank from Anywhere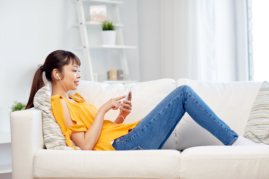 Bank on Your Time
Busy schedules call for better ways to get things done. Take the work out of your to-do list with convenient online and mobile banking options from Plains Commerce Bank. Securely set up automatic payments, make a deposit, and bank from anywhere with the convenience of branchless banking.*
Easy online banking options
Other Advantages
Allow us to explain. With Plains Commerce banking accounts, you can:
Securely access your accounts online, whenever and wherever you have an internet connection.
Never worry about missing a payment when you enroll in free Online Bill Pay.
Save even more time, paper, and stress with e-Statements.
Control your funds and prevent overdrafts by linking your accounts, transferring money, or stopping automatic payments online.
Monitor your debit card spending and prevent fraud with CardHub.
All of our services give you the peace of mind that comes from knowing your accounts and information are always safe. And if you ever have questions, we have a banker ready to answer them.
It's easy to bank with Plains Commerce. Give us a call at 1-877-227-7548, or stop in at one of our locations in South Dakota.
Not sure which version of Online Banking will best fit your needs? We've broken it down below!
| Version Features | Essentials | Solutions |
| --- | --- | --- |
| Ideal Users | Anyone wanting quick access to their accounts through a digital channel: individuals, home owners, Certificate of Deposit and checking customers, small business, trusts and organizations | Anyone needing more sophisticated cash-flow management through online or mobile channels: businesses large and small, property owners, trustees, churches, non-profits |
| User Access | Single User | Multi-user with user specific authority levels |
| Enrollment Process | Self-enrollment with immediate access | Banker-enrollment with a 4-5 day install |
| Security | Username, security questions, password protected | Username, multi-layer authentication, token protected |
| Services Included | Bill Pay, transfers, e-Statements, mobile app, mobile deposit | Bill Pay, transfers, e-Statements, ACH payables and receivables, same-day Wire transfers, remote deposit, mobile app with mobile deposit and transaction approvals |
| Cost | FREE | LOW MONTHLY FEE |
Frequently Asked Questions
How secure are your Online Essentials options?
Are there any fees associated with Online Essentials?
How do I access my Online Essentials account?
What is branchless banking?
Sometimes you have questions that need to be answered in person. Our bankers are here when you do.
Our People
* Wireless/data charges may apply.