Credit Sense

Know Your Credit Score
Setting goals is your first step toward achieving your dreams.
At Plains Commerce bank, your financial well-being is our number one priority.
Your credit score is more than just a number. It's a way for lenders to determine if you are eligible for a loan, the amount of the loan, the interest rate and your payment.
Gain insight on establishing or rebuilding your credit, understanding your credit score and methods of reducing debt with Credit Sense. Easy to use and already built right into Online Essentials and Mobile Banking!
About Credit Sense
It's free!
It's a "soft pull" on your credit report and does not affect your score
Daily monitoring of your credit report and informs users if any big changes detected
How Do I Get My Score?
It's easy!

1. Log-in to your Online Essentials or Mobile Banking and click on the "Check Your Score" button*
2. Fill out a short form and answer some questions to identify yourself
3. Get your score
Track Your Score
Anytime you log-in to your Online Essentials or Mobile Banking, you can check your score. Your score will be pulled each month and you'll receive an email letting you know if your score changed that month.
Learn more about Credit Sense in this quick video series: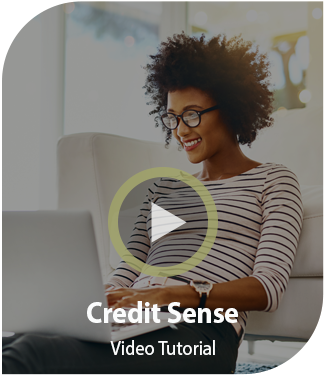 Take our Credit Sense service for a test drive using our helpful click-thru demo:
Try our Credit Sense service out in a test environment that mimics our actual products, step by step. You'll learn exactly what to do when conducting live transactions.

Frequently Asked Questions
What is Credit Sense?
What is Credit Sense Credit Report?
Is there a fee?
How often is my credit score updated?
Will accessing Credit Sense 'ping' my credit and potentially lower my credit score?
How does Credit Sense keep my financial information secure?
How does the Credit Sense differ from other credit scoring offerings?
Why do credit scores differ?
*Must be at least 18 years of age
*Wireless/data charges may apply