ACH Solutions
The goal of any successful business is growth.
To keep pace with the demand of payments in the digital era and assist in managing that growth - our Online ACH (Automated Clearing House) Solutions may be your key to success.

Your business may benefit from cost savings and improved operations when using electronic payments, such as ACH. For example, your business could choose to use these services to make automatic deposits for your employee's payroll. ACH also allows the ability to set up a payment system for outside vendors. This lends business owners the ability to reconcile without having to wait for checks to clear-saving time and money for everyone involved.

Payments can be automated, and record-keeping is often easier when done electronically.

When your business needs to send or receive money, an electronic transfer is often a great time-saving option. Funds move quickly, safely, and securely. But how do you know which is the best option for your task at hand? Check out our ACH versus Wire breakdown below.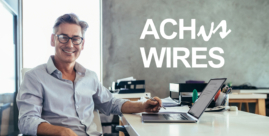 | Details | ACH | WIRE |
| --- | --- | --- |
| Ideal Users | Businesses processing payroll, landlords requesting lease payments from tenants, organizations collecting monthly dues, farmers processing recurring land and/or equipment payments. | Business or farmers purchasing equipment or livestock. Ranchers making land rent payments. |
| Electronic Transfer Option | Two-way transfer options for payables (outgoing ACH) and receivables (incoming ACH) | One-way transfer options only (outgoing wires). |
| Speed | FAST: Next business day or same day processing available (batch environment). | FASTER: Same day processing - near real time if submitted prior to daily cutoff. |
| Cost | $20/MONTH - unlimited files/items | $15/MONTH + $10 domestic or $45 international. Receiver may incur additional fees from his/her institution. |
| Security | MORE Secure (payments may be reversed) | LESS Secure (irrevocable - money is gone) |
| Potential Uses | Payroll, Vendor or Supplier payments that are less time sensitive. Pre-authorized reoccurring payments. | Vendor or Supplier payments for which there is no other solution offered. When speed is critical. |
| Ideal Uses | Great for scheduled, repeat transactions. | Fitting for a one-time transfer where speed is important. |
| Key Differences | Send multiple payments at one time. Can be scheduled in advance for convenience. | More information is needed to complete wire requests. |
Learn more about ACH Solutions in this quick tutorial.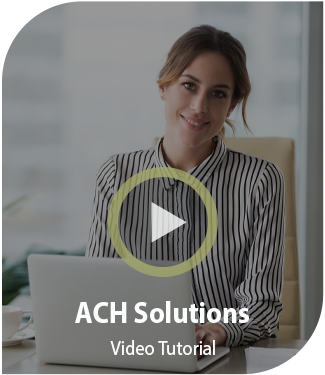 As ACH Originators, please be advised of the NACHA operating guidelines and rule changes that apply to ACH processing. We know how important this is and we'd love to help you get started.
To access the new user sign up and claim your subscription, visit: https://www.NACHAOperatingRulesOnline.org
Is there a way to conveniently wire money?
What are the advantages for Wire Transfers?
Why would I use ACH Solutions?
How can I manage my Payroll?
Business Banking Team