Ag Loans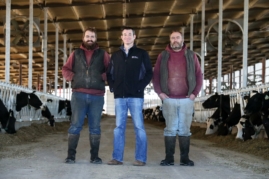 Grow Your Business
We have a full range of loan products(1) available for farmers, ranchers, and ag businesses. We offer customized lending, local decision-making, and great service to help you expand your business.
Whether you are financing or refinancing a herd of cattle, machine sheds, grain bins, irrigation equipment, or other major items, our ag bankers can help. On both new and used purchases, you'll get more than just a competitive rate. You'll also get options tailored to the needs of your operations, which could add up to big savings.
Plus, we offer flexible payment plans matched to fit your seasonal cash flow.
Operating Loans & Lines of Credit
Farm operating loans are not a one-size-fits-all proposition. That's why we give you a choice of operating loans designed to fit the way you produce and market. Borrow a lump sum or enjoy a line of credit that gives you the freedom to respond to changing conditions.
Equipment, Livestock & Vehicle Loans
On both new and used purchases, we offer a competitive rate. If you are financing or refinancing livestock, machine sheds, grain bins, irrigation equipment, vehicles or other major items, you can enjoy convenient payment plans and other options tailored to the needs of your operation—options that could add up to big savings.
Real Estate & Construction Loans
We offer competitively-priced farm real estate loans for financing a land purchase, refinancing a current mortgage or land contract, or making farm improvements. Fixed-rate options on real estate and construction loans, and fully amortized loans are available. If conditions and circumstances point you toward adjustable rate or variable rate alternatives, we offer those as well. We also offer long-term, fixed financing Farmer Mac loans.
Government Guaranteed & Participation Programs
Guaranteed loans are available to borrowers with limited capital resources. These loans are offered through the Farm Service Agency (FSA) and the South Dakota Beginning Farmer Bond Program.
Commercial & Other Agribusiness-related Loans
Whether your business is a large, commercial farming operation, an agribusiness, or involved in the processing or marketing of food or fiber, we have loans available for you. We design financial programs specifically for you and the needs of your agricultural-related business.
Insurance Services
We know that agriculture can be a risky business. That's why we offer Multi-Peril Crop Insurance, hail insurance, and livestock risk protection(2). Whatever your business depends on, we can help you protect it.
How do I apply for an ag loan?
You'll need to stop into one of our many locations to apply for an ag loan, but there are a couple things you can do at home to speed up the process.
When applying for an ag loan, you'll need to fill out a personal financial statement form. To get a head start on your application, you can download the Adobe PDF form to fill out in advance.

Personal financial statement (PDF)
Then set up a visit with a member of our ag banking team. They'll give you a checklist to fill out based on whether your loan is for a purchase, a refinance, or a new business start-up, and walk you through the loan application. They'll also answer any questions you might have.
(1) All credit and loan products are subject to credit approval.

Please note that it is our policy not to accept loan applications from individuals or businesses located outside of our trade area unless the applicant is a present customer or has made prior arrangements with a bank officer.

(2) Not FDIC Insured. Not a deposit or other obligation of the institution. No Bank Guarantee. May Lose Value
Ag Banking Team