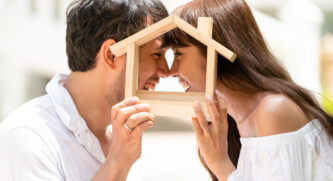 1. Buy sooner
When is the right time to buy? "The sooner, the better in many instances," states Chris Vinson, Executive Vice President & Branch Manager of the Plains Commerce Bank Mortgage Department.
Let's use the South Dakota Housing and Development Authority First-Time Homebuyer program as an example. Many first-time homebuyers, couples and individuals, take advantage of this program. It's an appealing option as you only need a 3% down payment. You may also receive a dollar-for-dollar income tax reduction* up to $2,000 for the life of your loan through this program. However, there are income limits. Many borrowers, especially couples, may make too much money. They're right on the $75-80,000 qualifying line for the program. If you're nearing that line and want to use this program, you may want to buy before you make too much.
Also, you never know how low or high interest rates will go. If you wait a year, you may miss out on a great opportunity. They can change at any time. Even if interest rates go up half a percent tomorrow, remember that it's still a lot cheaper than when your parents bought. It could also continue increasing.
Act while there is a great opportunity in front of you.
2. Talk to a mortgage banker sooner
Financial stability is important when you're looking at buying a home. However, even if you feel confident in your ability to pay for a home loan, your financial profile may tell your mortgage banker a different story.
Do you have student loans?
Before you consider consolidating debt, talk to your mortgage banker. Also, while you may still qualify for a home loan with student loans, you will have to meet a qualifying debt to income ratio before you do.
Let's say you're a doctor coming out of medical school with $150,000 in student loan debt. You're in your residency making $40,000 a year. Because you're not in school, the bank has to count that loan payment against your income. With this debt to income ratio, you may not qualify. Timing is key.
Do you know your credit score?
Even if you don't have the highest of credit scores, you may still qualify for a home loan. This is where credit counseling will come in to play. And while we don't have counselors in house, there are online options as well as many local companies to choose from.
Do you have 3 trade lines?
Trade lines, or credit accounts, are also a necessary part of obtaining a home loan. You usually need three trade lines with perfect history for over 12 months. These could include:
vehicle loans
bank loans
credit line at bank
credit cards
student loans
Some banks may also consider non-traditional trade lines, such as:
auto insurance
mobile phone
rent payment
Are you planning on making another major purchase?
Reconsider buying big-ticket items if you're going to be applying for a mortgage in the near future. You'll want to show the bank you're financially responsible and serious about dedicating your income to your new home. Talk to a mortgage banker if you're considering this.
Do you have money in the bank for emergencies?
The bank will always look at your savings and checking accounts, not only for responsible spending patterns, but also to ensure you have sufficient funds available to care for your new home. An easy rule of thumb is to save 2 months' worth of rent in your checking or savings account before you apply for a mortgage.
3. Get prequalified before shopping
The housing market is very competitive. The best homes go fast, and if you're not prepared, you may miss out on a great find. That's why it's important to get prequalified for a home loan before you even start your house hunt. You'll want to know how much home you can buy, according to the bank. In addition, most sellers will not accept an offer without proof of prequalification. If you find your dream home and try to make an offer without a letter from the bank, you could be turned down regardless of your offer.
4. Find a realtor
Realtors play an instrumental role in the home-buying process. Going without one can cause frustration, confusion, and unnecessary headaches.
What are the benefits of having a realtor?
Realtors are in and out of homes all day long, so they can recommend what is a good property and what isn't.
They'll work on your behalf, behind the scenes, using their network to find out about homes with features you want.
They'll handle all the confusing paperwork.
They'll recommend actions you should take, such as getting inspections, making conditional offers, and more.
Realtors have access to data you don't, and they'll give you an advantage when it comes to finding and buying the home of your dreams.
5. Conduct a home inspection
It's important to know what's happening in every square inch of the home you're about to buy. You will be given options on the different types of inspections that are available to you as a buyer. Inspections will uncover current problems with the home and potential future ones. Inspections may include radon mitigation system, plumbing, fireplace, electrical, heating and cooling systems, foundation, windows, mold, plumbing, infestations, etc. If the inspector finds something, in some instances, the current homeowner may fix this as a part of the sale.
Are you a first-time homebuyer?
What an exciting time! If you're looking for an expert to learn more about the entire process, from prequalification to closing, we're here to help. And our advice won't cost you a thing!
Get in touch!
Source: Plains Commerce Bank Mortgage Team
*Please consult your tax advisor regarding your tax eligibility.