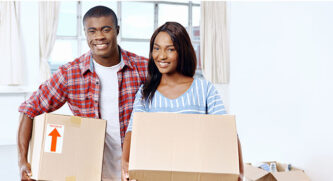 Deciding to rent or buy a home seems like a daunting decision, but we can assure you that it's easier than you think. While there are pros and cons for each option, here's what you have to think about before you're ready to sign a deed instead of a lease.
Why buy?
While buying a home is one of the biggest purchases many people make in their lives, it can also be one of the most rewarding as well. You have to remind yourself that while you can put a price on a house, you can't put a price on a home. For that reason, many people consider a house an investment, as long as you treat it as one.
Make it an investment
Just like stock, your home value will fluctuate with the market. At some points you may be able to make a profit on your investment when you sell, while other times you might not be as lucky. It really depends on if you're ready to buy and sell at the right times to make this happen. A true home investor looks at it this way and is ready to sell at the right time, even if that means picking up and moving out.
When you own a home, you must also look at additional costs such as property taxes, insurance, repairs, and improvements as part of your investment. Calculate these long-term costs before you buy. Will 10 years of paying X amount per month make your investment worthwhile?
Home values on the rise
Since 2012, home values in the United States have been on the rise, and Zillow predicts that this will trend into 2016 with the average home value increasing by 2.2%.
What's more, while the average home costs $180,800, the median sale price as of August 2015 was $225,000.
Cheaper to own than rent
Rent prices have be on the rise since 2010, averaging $1,381 per month for all home types for rent. Translation: Renting a home is now half as affordable as buying one. At the end of 2014, U.S. renters spent about 30% of their incomes on rent alone, while homebuyers only spent 15%.
Compare this to the housing bubble between 1985 and 2000, where it was always cheaper to rent than buy. Now, not so much—especially if you can afford to make a sizable down payment on a home.
Why Rent?
Commitment. Property taxes. New refrigerator. If any of these phrases make you uncomfortable, you're probably not ready for homeownership. And that's okay! Renting has its perks, too.
Maintenance-free living
When you live in a rented property, whether it be a home or an apartment, you're not responsible for fixing that leaky faucet or replacing appliances when they konk out on you. That's when you call your landlord or maintenance person.
Flexibility at its finest
The truth is, you never know where life might take you. If there's a chance that you might be transferred within the next five years, or even quit your job, stop and think about whether renting or buying will work best for you down the road. Renting could be your saving grace if you have to pick up and move your entire life.
This is especially true for people who are just leaving the nest or graduating college. If you're in your early 20s, have minimal savings, and want to rely on a FHA loan to only live in your house for 5 or less years, it can end up costing you much more.
Less stress
Emotionally, are you ready for the stress of homeownership? According to the Holmes and Rahe Stress Scale, a change in financial state, a large mortgage or loan, a change in living conditions, and change in residence can be stressful home buying factors. Mix that in with a recent marriage or child and you might be maxing out your stress before you even move in.
Ready to take the home-buying plunge or have more questions? We're ready to listen and help you determine if it truly is the right decision for you right now.
Please consult with your tax advisor regarding your tax eligibility.