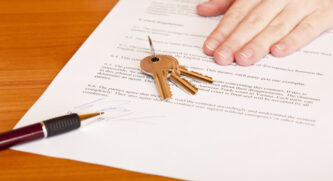 Before you sign anything, you should know what you're signing, right? On closing day, you'll apply your signature to more than a legal document or two. We want you to feel comfortable when it comes to your mortgage papers. Whether you're a first-time homebuyer or are looking for a refresher on loan closing, we can fill you in.
What are the major closing documents?
You found the home of your dreams, negotiated price with the seller, and it's finally closing day! When it comes time to put ink to paper, your lending officer will present you with three important documents:
HUD-1 Settlement Statement
Promissory Note
Mortgage Note
People sometimes confuse one for the other, but each one serves a distinct purpose.
HUD-1 Settlement Statement
Before you sign anything, you'll be given a HUD-1 settlement statement (see an example HUD-1). This statement itemizes the services and final fees charged by your lender for financing or refinancing your home.
Real estate broker fees
Items payable in connection with the loan (Ex., discount points)
Lender fees needed in advance
Reserves deposited with the lender (Ex., homeowners insurance)
Title charges
Government and transfer charges
Other settlement charges (Ex., home inspections)
While it's not necessary, you may wish to bring your good faith estimate (GFE) along to compare with your HUD-1 to ensure everything is in order. This is the GFE you received when you applied for your loan. On page three of your HUD, you'll see how close your GFE came to your actual closing costs.
You may also hear us call this the closing statement, as both the homebuyer and seller must sign it.
Promissory Note (Note)
This is your loan contract. When you sign it, you are promising to repay the money borrowed under specific conditions. It contains your interest rate and term, such as whether you're entering into a 10-, 15-, 20-, or 30-year fixed rate mortgage or an adjustable rate mortgage, loan amount, payment changes schedule (if applicable), and potential penalties for late payments.
Your promissory note also references your mortgage, stating that the lender can seize the property if you default on the loan. In other words, "no pay, no stay."
Security Instrument (Mortgage Note)
In South Dakota, mortgages serve as the main security instrument. Other states may have a deed of trust or both. The main difference between the two security instruments comes into play if foreclosure occurs. Unlike a mortgage where the lender or borrower can hold the house title (it varies by state law), with a deed of trust, a third party trustee, such as a bank or lawyer, holds the title. The trustee can forgo judicial foreclosure, which requires a court appearance for the lender to sell the property after the borrower defaults.
The mortgage note (or deed of trust) is an important and legally-binding document. It will be recorded in the county land records. In essence, you are pledging your property as security or collateral for the loan. When you sign the mortgage, you authorize the lender to take possession of the home through foreclosure proceedings if you default on your loan. Most mortgages will also contain an acceleration clause that permits the lender to demand that the entire balance of the loan be repaid at an accelerated rate to prevent foreclosure in the case of default.
When the loan is fully paid off by the terms in your promissory note, the lender will record a release (or satisfaction) of mortgage (or a reconveyance of deed with deeds of trust) in the county land records.
What else should I know about closing day?
You can request to review mortgage documents from your lender 24 hours before closing. Don't be scared to let them know you'd like to browse the documents at your own pace.
Don't forget to keep all documents together and in an accessible place. You may need them for tax purposes or for a refinance down the road.
If you still have questions, by all means, please ask! When it comes to making a substantial investment, you don't want uncertainties lingering in your mind.
Our mortgage bankers are here to help. Even if you're still searching for your ideal home, contact us to chat about the mortgage process. (Our loan officers can go on for hours about mortgages!) Ultimately, the more informed you are, the better you are going to feel about purchasing a home.
Resources: