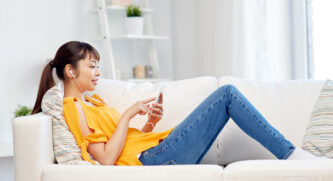 Don't believe us? Keep reading!
Let's face it: we rarely go anywhere without our phones. And why should we? They're our connection to everything from family to Facebook. So with nearly everything you need within hand's reach, why should your banking be any different?
We don't think it should be. That's why, when you download our app, you get more than security and convenience. You get all the benefits of banking with Plains Commerce — right in your pocket.
Mobile Deposit
Today's busy schedules can fill up fast, and getting to the bank doesn't always fit in. We've got you covered: deposit checks quickly and securely from wherever you are. Mobile deposits at Plains Commerce make adding money to your account as easy as using your camera.(1)
Endorse your check
Log in to the app
Use the app to take a photo of both sides of your check
Submit your deposit and check your balance at any time
And every transaction is backed by our experts and security, so you can have your funds and peace of mind, too.
CardValet
Nobody wants their debit card to be lost or stolen, but it happens. Protect yourself with CardValet, and access help with the touch of a button. You'll have full control over when and where your debit cards are used—so if someone other than you is using it, you're able to turn off your card at the touch of a button. Find your card at the bottom of your gym bag the next day? No problem. You can turn it right back on from your mobile app as well.
Bill Pay

We know paying bills is inevitable, but it doesn't have to be difficult. Make it more convenient with mobile bill payments. You can organize and keep track of all your bills in one place, so you don't have to worry about forgetting any (or having to pay late fees). Then, use our app to make easy, fast, secure payments whenever you're ready. You can even set reoccurring bills to automatically pay on your desired day each month.(1)
Manage Your Money
Your money is exactly that: yours. Managing your funds should never be a struggle, and we've taken that to heart. Mobile banking allows you the flexibility and control to:
Transfer funds between your accounts
View your balances
Monitor recent activity
Find nearby ATMs
And that's only the beginning. It's quick, secure, and free for our online banking customers(1).
Your Smartphone Made Smarter
Mobile banking with Plains Commerce Bank puts your connection to all of our secure, convenient services right in your pocket—or on whatever device you use—and always within reach. That's right: our personal service just became that much more accessible.
Download our app in the Apple App Store or Google Play Store* today, and try it out for yourself!
*Wireless data charges may apply. Check with your mobile phone carrier for details. Must be enrolled with Plains Commerce Bank online banking to participate. Fund availability based on individual financial institution and/or payment provider. Apple is a trademark of Apple Inc. and Google Play is a trademark of Google Inc.

(1) Individual monthly and daily limits apply.

(2) Minimum transaction amount $5.00 U.S dollars.