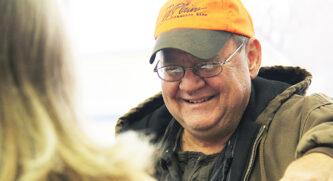 You've likely seen "shop local" campaigns. While you may purchase items locally, have you thought about supporting your hometown bank? Those who do receive perks not found at big banks and help grow their community.
Plains Commerce Bank Retail Banker Justine Wight has worked in banking for over a decade. She's seen the impact local banks have on their customers and the towns they're in. She's listed just a few of the ways customers benefit by banking locally.
How You Benefit
Personalized Attention
At corporate institutions, customers sometimes become just another number. This can be a frustrating experience. With a smaller bank, you'll receive personalized attention, which provides a level of comfort you won't find at a big bank.
At Plains Commerce Bank, we take the time to get to know our customers, asking what their needs and goals are. Has your bank asked you what you're trying to achieve in life?
Whether you need a product to help you reach a retirement goal, buy a home, build savings for college, or you just want a friendly place to bank, look to your community bank for customized service.
Better Interest Rates
Small banks tend to offer better interest rates on savings products and loans. In addition, they sometimes run promotions that larger banks don't. For example, a small bank may offer a gift certificate as a reward to a customer for choosing them as a mortgage lender.
If you're looking for common banking products, you could save money up front and in the long run.
How Your Community Benefits
Lower Fees
Have you seen a lot of bank ads for free checking? Smaller banks offer many of the same services as the bigger banks, but at a lower cost. This benefits both you and the community. By reducing fees, the bank can better meet the financial needs of more people. See what banking without fees looks like at Plains Commerce Bank.
Bigger institutions don't cater to the community they are in, but rather to the large markets where they have offices with a large population. The big guys still have their role, but you won't always feel the impact close to home. Local, community-focused banks uphold the ideals of the community and value the relationships they have in that community.
Grows the Local Economy
Small businesses in the community often depend on small banks for financing. Large banks typically only have numbers and business plans to go on. Small bank lenders have some room to exercise their best judgment. Loan approvals are made locally by people who live in and understand the community. This goes for both personal and business loans.
Local bankers find the right financial tools to meet your goals and help you grow. When small businesses grow, so do local job opportunities, which in turn stimulates the local economy. It's a win-win for everyone.
How We're Different Than the Big Banks
We realize each customer has a unique set of needs and goals. That's why we place a greater value on providing stellar customer service. We listen and try to find the best possible banking products to fit you. As your needs change, we find new ways to help by coming up with solutions that adapt to your needs.
If you'd like to learn more about banking locally, get in touch with our team at any time.