Switch to Plains Commerce Bank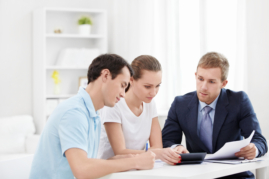 You Make the Switch, We Make it Simple
Whether you want lower fees or more convenient locations, you probably have more than one reason for switching banks. It's a big decision, but it doesn't have to be difficult. At Plains Commerce Bank, we make it simple to open an account—and we'll help you every step of the way.
Step 1: Open and fund your account.
Once you're ready to switch accounts, transfer your funds in stages. Keep enough money in the old account to avoid a minimum balance fee and cover automatic payments that haven't yet processed.

Account Types
Open your new personal account online.
Plains Commerce Bank lets you apply for a free checking or savings account from anywhere with an internet connection—no paperwork or waiting in line.
Step 2: Set up your direct deposits and automatic payments.
Make sure to update information for important deposits like your paycheck. Once you've set the date for your new account's first direct deposit, reschedule future bill payments through your new account. Have your old debit card saved as your preferred method of payment for online purchases? Don't forget to update this to your new account as well.
Step 3: Close your old account.
Our bankers will help you close your old account and finalize the process. Make sure everything has been transferred from your old account to the new. Consider getting a written statement from your old bank to confirm the account has been closed.
Frequently Asked Questions
What do I need when I open my account?
What is the minimum balance required to open an account?
Do I need to come to the bank to open an account? How can I apply?
What type of accounts do you offer?
What fees do you charge?
Are there any transfer fees?
Do you have any other locations in town?
Where are your ATMs?
How do I change my automatic payments?
Do you have to have a checking account and a savings account, or can I just have one or the other?
Do you charge for checks?
Do you check credit scores?
When is a good time to switch banks?