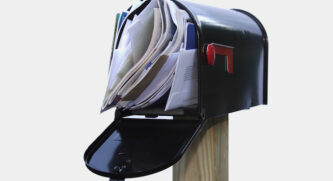 Take your online banking to the next level with e-Statements. These electronic documents replace and improve your paper statements with added convenience and security benefits—which means less worry for you.
E-Statements provide fast, safe, and secure delivery and storage with the ability to always find your statement when you need it, all while having less clutter around the house."

Interested in signing up for e-Statements? Check out eight more reasons why you should use e-Statements.
1. Immediate Availability
View your statements as soon as they become available, rather than waiting for them to be printed and mailed. You'll receive an email notifying you when your statement is ready and waiting.
2. Convenient Access
On the go? No problem. Access your statements whenever and wherever you want, whether you're at work, at a coffee shop, or on your couch. Gain access with your laptop, desktop, tablet, or mobile device.
3. Increased Security
Protect your information from being stolen or delivered to the wrong address. Secured by your online login credentials, your statements can only be accessed by you.
4. Constant Availability
Going off the grid? Download e-Statements on your computer, tablet, or mobile device and save them for offline viewing and, if needed, printing.
5. Eco-friendly
Replacing your multi-page paper statement with an electronic version saves trees and reduces greenhouse gases associated with paper manufacturing, printing, and mail transportation.
6. Less Headache
Never misplace your statements again. Your online account acts as a virtual filing cabinet, so you'll always know your documents' exact location.
7. Reduced Clutter
Give yourself less paperwork to sort through. Electronic delivery means you'll have less clutter in your mailbox—and shredder.
8. Simple Sign-Up
Receiving e-Statements couldn't be easier—simply check the opt-in box when you sign up for online banking. If you already have an online account and haven't chosen e-Statements, you'll find the opt-in checkbox under the "Profile" tab in your account.
---
Your time and resources are valuable. That's why we work tirelessly toward making your banking experience as simple and convenient as possible. Switch to e-Statements and put the power of accessing your account statements—anytime, anywhere—right in the palm of your hand.

If you have any questions about switching, contact a personal banker in your community.