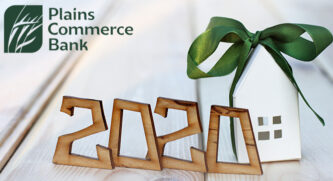 Reflecting Back on 2020
2020 has been a year of many ups and downs. Despite the difficult and unprecedented events that ensued, Plains Commerce Bank has many things to be grateful for.
Here are the top 8 things we celebrated in 2020:
We've been growing: On January 1, 2020, Plains Commerce Bank had 254 employees. As of December 1, 2020, we have grown to 477 employees (and counting!). As a company rooted in relationships, we're thrilled to see more people joining us and strengthening our connections with our customers and colleagues.
We opened our 10th location: On June 1, 2020, we opened our 10th Plains Commerce Bank location at East 57th Street & Sycamore in Sioux Falls. We're happy to provide another location – and we encourage you to stop by and enjoy a Flyboy donut while you're there!
Fun fact: Did you know the owner of Flyboy Donuts was born and raised in Hoven, SD? That's the same place where we got our start!
We're the Local Best: For the eighth year in a row, our Sioux Falls mortgage banking team received the Local Best award for home loans. Our team works hard to answer your mortgage questions and address your concerns, and we thank you for recognizing their efforts.
We got a new look: In October, we launched a refreshed version of Plains Commerce Bank. Since we've continued to grow exponentially over the past few years, we knew it was time to give our brand a makeover. And while we may look a bit different, our exceptional service remains true to what it has always been.
We gave back: Covid-19 has impacted all of us in one way or another. We're committed to the communities in which we serve, and we're dedicated to helping in any way we can. Throughout the past year, Plains Commerce Bank donated over $40,000 to help our economies. We're proud to give back to the communities that have given us so much.
We have the lender of the year: Vice President/Business Banker Rodney Krantz was named Dakota Business Finance Individual Lender of the Year. It was no surprise to us – Rodney is not only an excellent banker, he's a great co-worker, friend, husband and dad.

We have the Area 4 loan officer of the year: Senior Mortgage Banker Shawna Kleinwolterink was named South Dakota Housing Development Authority's Loan Officer of the Year (Area 4). Shawna is hardworking, caring and dedicated to her customers, and we're excited she was honored with this recognition.


We have the Area 6 loan officer of the year: Senior Mortgage Officer Julie Brownell was named South Dakota Housing Development Authority's Loan Officer of the Year (Area 6). Julie is helpful, reliable and focused on her customers. This award is evidence of her commitment to making her customers' visions for their homes a reality.
Without our employees, and you, our customers, we would not be where we are today. Thank you for remaining loyal in such a time of uncertainty. We're grateful for each of you, and we're excited to keep moving forward together.
Cheers to all the good things to come in 2021!