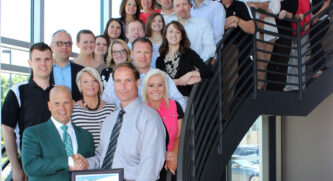 Twenty five years ago, the USDA launched a program to give rural residents more home financing options. Since starting the Single Family Housing Guaranteed Loan Program in 1991, the USDA, through local lenders like Plains Commerce Bank, have provided 9,898 home loans to South Dakotans across the state. In 2016, USDA Rural Development recognized Plains Commerce Bank as the top lender in South Dakota for the Guaranteed Rural Housing (GRH) loan program out of 45 approved lenders.
Plains Commerce Bank's Chris Vinson, EVP/Branch Manager, reflected on the award, "Any time that you win an award against stellar peers it's an honor, but what's more important than awards is that we believe in putting the customer first each and every time. If we recognize their needs and take care of them, then at the end of the day your customers will ultimately take care of you."
The GRH offers key features such as no down payment to eligible income households and no maximum mortgage limits to rural South Dakota residents living in communities with a population of 35,000 or less. Also, the program is guaranteed by the federal government and is provided by private lenders.
USDA Rural Development State Director Bruce Jones explained that working with local lenders is important as homeownership means long term financial stability and security for rural families.
"Our staff is incredibly knowledgeable about our products and the customers we serve. What it comes down to is our mortgage bankers are very good at matching the right program with the right customer whether that's the rural development program or not," Vinson concluded.
If you're a rural South Dakotan looking to buy a home, we can help. Contact our award winning team today to find out more.