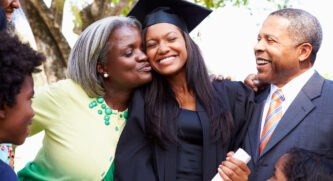 Each year, Plains Commerce Bank partners with the South Dakota Bankers Association to match funds for graduating seniors to financially assist in their higher education goals. The bank also awards two memorial scholarships from the Hoven, SD branch.
To be considered for a Plains Commerce Bank scholarship, the student must plan to attend a South Dakota college, university, or vocational school on a full-time basis. The scholarship is also based upon the individual's activities, community involvement, character, and financial need. Additionally, the student and/or their parents must be a current customer of the bank.
With the cost of secondary education increasing year after year, scholarships are becoming more important than ever before.
"Scholarships give students more desire and drive to extend their education," says Autumn Simon, scholarship recipient. "I was honored to receive a Plains Commerce Scholarship. It gives me the desire to show them I put it to good use. Also, any help you can paying for secondary education is a bonus!"
Plains Commerce Bank is fortunate to have such bright, inspiring, and involved young customers and wishes them all the best for their post-secondary endeavors.