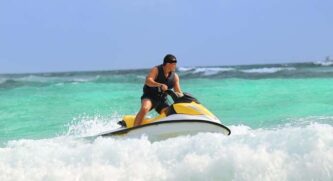 Now that we're well into summer, ATVs, campers, boats, and jet skis are starting to go on sale. With a little planning, saving, and financing, your admired summer recreation item may be within reach.
Retail Banker Justine Wight at Plains Commerce Bank Aberdeen branch has tips on how to plan for your next big purchase.
What are the most common things people take out personal loans for?
Most financing requests are for cars, boats, ATV's, campers, motorcycles, RV's, jet skis, and snowmobiles. We also get requests to finance unique items from time to time.
When is the right time to take out a personal loan?
Any time is the right time to take out a personal loan. It just depends on your personal financial situation.

Before you request a loan, consider if you actually need to take one out in the first place. Do you have a savings account for a vacation, but had a good deal on a boat come up? If you're willing to replace your vacation with a boat, or postpone your vacation, you could save money by avoiding interest in the long run.

Also review your current financial situation. Can you afford monthly payments for the amount you're borrowing? Make sure the term or length of your loan fits into your monthly budget. If you haven't created a budget before, now is the time.

Knowing exactly where your money goes can also help you save more. Track all of your expenses for a month and see where you can cut back. Then allocate the money you save to a dedicated savings account.
Once you have made a decision to visit a banker for financing, the loan process is usually a quick one. Depending on what you're buying, you'll likely need a fast decision from the bank, too. The item you want won't be on sale forever!

And if neither saving nor financing options work for you currently, start saving for next year's summer sales now.
What does a person need to get a personal loan?
Contact the bank to see what information is required for the particular item you're purchasing. At minimum, know the cost, year, make, and model (if applicable). Then fill out an application, and your personal banker can assist with the rest of the process.
Is a local bank a good place to get a personal loan?
Going with a local bank means you'll get local decisions. You'll also know who you are dealing with.

Talk with a personal banker about financing options and interest rates available to you. Plains Commerce Bank serves South Dakota areas, and we are just a phone call or email away.
All credit and loan products are subject to approval.