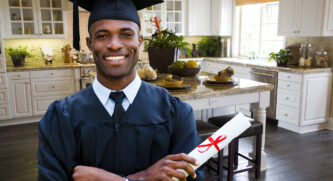 Homeownership is a dream for many. However, according to the Center for Financial Services Innovation, 57% of Americans admit to struggling with their financial health.
Buying your first (or even your next) home doesn't need to be impossible. There are resources available to help assist with down payments, closing costs and more for those who qualify.
Don't think you qualify? Think again.
There are a multitude of grant options available to homebuyers; some specific to recent college graduates, some for first-time homebuyers and some even favor military families, veterans, law enforcement, Pre-K-12th teachers, firefighters and EMTs.
Unfortunately, most people are unaware of thousands of dollars available to them because they how don't know to apply for these grant funds.
We're here to help. Our team has compiled an overview of some home loan grant programs available to help as closing cost/ down payment assistance. However, we always welcome you to reach out to a local mortgage banker to discuss which grant programs may be applicable to you.
When you qualify for the South Dakota Housing Development Authority's Fixed Rate Plus loan, you may be able to get up to 3% as a gift to help with the costs of your mortgage. The gift never has to be repaid, though the program does carry a slightly higher interest rate.
This program reduces the amount of federal income tax qualified applicants pay, giving you more disposable income. With SDHDA's Tax Credit (MCC), a percentage of your mortgage interest can be used as a dollar-for-dollar reduction in your tax bill and the remaining interest paid is still eligible for the home mortgage interest deduction.*
The Grants for Grads homeownership program provides 5% of the loan amount as a grant. This can be used for down payment or closing cost assistance when recent graduates wish to purchase their first home in South Dakota. If you have graduated from an accredited postsecondary school in the last 5 years, this program may be a great fit for you.
Qualifying homebuyers may receive up to $5,000 to put towards a down payment, closing costs, or any other part of the home buying process. As members of the Federal Home Loan Bank (FHLB) of Des Moines, Plains Commerce Bank has received $250,000 to help potential homeowners purchase their homes and keep our local affordable housing market strong. View terms & conditions.
GROW South Dakota can match individual savings to purchase your first home. For each dollar you save (up to $2,000), this program will match with an additional three dollars! If eligible, you can join the program and have a total of $8,000 to use toward the purchase of your first home.
With over $2 million in grant funds available across South Dakota, this program may be your smartest path to homeownership. These funds will be used to support down payment assistance for low- and moderate-income South Dakotans in the form of deferred second mortgages. South Dakota Grow will be awarding 200 loans in the amount of $10,500 each during the two-year grant period to income eligible homebuyers.
This Grow South Dakota program provides eligible homebuyers with up to $7,500 of down payment assistance on qualified properties. Assistance is not limited to first-time buyers and also offers additional benefits for first responders, those in the military, veterans & teachers (PDF).
Learn More
Helping you fulfill your dream of homeownership is more than our job. It's our expertise. Our mortgage bankers devote their days and time to supporting you, your future home, and your community.
Speak with a mortgage banker today about how one (or more) of these grant options may benefit you, and take one step closer to owning your dream home.
*Please consult with your tax advisor regarding your tax eligibility