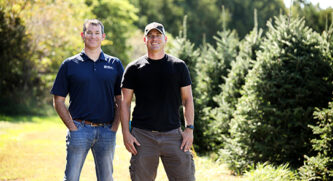 Meet Todd Gannon: a mover and a shaker, husband, dad, coach, business owner-the doer of all things.
Gannon is literally the jack of all trades with the multiple businesses he and his wife own from a seed company to graphic design firm (with a tree farm in between). They tackle everything from balancing demanding schedules to hosting large events, like their Fall Pumpkin Festival which runs the first three weekends each year in October. The duo not only owns multiple businesses but finds time to volunteer in their hometown of Canton, SD on the side.
He credits his many successes within his professional life to the relationship he has developed with Plains Commerce Bank.
"Everything we have wouldn't be possible without Plains Commerce Bank. I would not have been able to take the opportunities that have come my way if it weren't for the relationship I have with our bank." - Gannon

Gannon explains that his relationship with the team at Plains Commerce Bank was a transitional evolution of building trust. He was first introduced to Plains Commerce Bank when his existing financial institution led him through an incredibly complicated home loan refinance. After meeting with the Plains Commerce Mortgage team, Gannon had a newfound perspective for relationship banking. Soon after, Gannon and his wife decided to make the switch with not only their personal, but their business accounts as well.
"When you have all of your accounts in one place that understands your global perspective - this allows you the power and the ability to do things in a much greater capacity," remarks Gannon.
Relationship banking is something that Plains Commerce prides itself in, day in and day out. With local decision-making, we have the ability to foster economic growth and help ensure that the financial resources of our local communities are put to work.
We take pride in helping business owners, like the Gannons, to foster growth and build up the communities we call "home". We're a community bank for a lot of reasons-but above all else, it's for the relationships we have with our customers. We're in this together which means your priorities are our priorities. And as your bank, we take that to heart.
Ready to get down to business?
Just let us know! We're here to help with all of your business banking needs, and would love to chat with you. Send us a note, give us a call, or stop by in person!