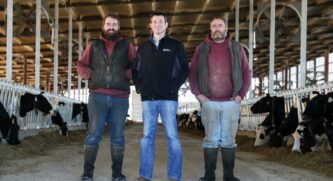 Creating a Family Legacy.
Smack dab in the middle of the Midwest prairie sits Mossings Dairy-a midsized dairy cattle operation spearheaded by Moss & Ingrid Jopson along with their two sons, Nick & Michael. Housing over 1300 milking cows, the Jopsons send out nearly 14,000 gallons of milk each day which is picked up and transported to Valley Queen in Milbank, SD.
South Dakota has more than 250 licensed dairy operations, but there are a few key factors that set Mossings Dairy apart from the others. A unique story that starts in England, the Jopsons are not native to South Dakota or even the United States. The family hails from the Lake District of Cumbria, England. A quick Google search reveals a picturesque lake town nestled between mountains and is often considered to be one of the most beautiful regions of the UK. So why trade a postcard landscape for the unpredictable and the unknown?
Moss and Ingrid knew they wanted more for their family. They wanted to expand their operation in England but with their region becoming increasingly more 'touristy', expansion was not feasible. They began researching their options which ultimately landed them in Egan, SD. A 12-month long process, the Jopsons emigrated with three of their four children to the US in 2007 and hit the ground running.
Moss and his boys are involved in every aspect of their operation. "Their overall commitment to managing risk is what sets them apart. After facing a few challenges in their early years of operation within the US, they have made risk mitigation one of their highest priorities. They are as aggressive with forward pricing milk and managing the milk price risk as anyone I work with," comments Rodney Krantz, Business Banker at Plains Commerce Bank in Sioux Falls.
Over the next ten years, Mossing Dairy would nearly triple the number of milking cows in their operation with their most recent expansion completed in late 2018. With the help of Plains Commerce Bank, Mossing Dairy constructed a 53,000 square foot free stall barn leading to an additional 300 plus cows to their daily milking regime. "Overall, there are only a handful of lenders in our area that are active in dairy financing which can sometimes create a few challenges for customers. For this particular project, Mossing's came to us with a well-defined plan that demonstrated their needs which made preparing a financial package fairly simple," remarks Rodney.
Spending any amount of time with the Jopson family, you get a sense of calmness in the midst of thousands of cows. Their sense of control over their operation is admirable and they are the reason for its success. "We do a lot of the work ourselves, we know what's going on at all times, we don't sit back in an office and rely on others to keep us informed. We do a majority of the feeding ourselves so we know what our cows are eating. Healthy, comfortable, happy cows are what we strive for," comments Moss.
When asked to describe his relationship with Moss and sons, Rodney summed it up in three words, "Open, honest, enjoyable." And after spending just a few hours with the family, it didn't take much convincing to prove as much.
At Plains Commerce Bank, we know that farm and ranch families grow more than livestock and crops; they grow our local communities too. No community bank can be successful – for its customers, communities, and shareholders – without safely turning peoples' deposits into valuable and productive credit for others. From customized lending to local decision making, we'd love to talk to you about your ag business. Contact one of our ag bankers today!