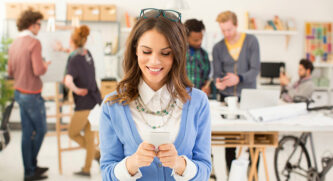 It's easier than you think.
Client lunches. Corporate meetings. Multi-day trips. As a business owner, you have a lot of different roles to fill, places to be, and priorities to think about. The last thing you need is for money management to slow you down.
Good news: it doesn't have to. We can help you streamline your business banking—and it's as easy as using our mobile app for business. You'll have secure, convenient account access that helps keep things running smoothly, wherever you are.(1)
Easy Access
Leaving on a business trip doesn't mean you have to leave your finances behind. Put your account right in your pocket, and you'll be able to check in any time you want. In a matter of moments, you can access your account information to see balances, recent activity, and more. Whether your business is large, small, or somewhere in between, you'll have everything you need, all in one place.
Fast Transactions
We make it our priority to offer you the best in-person customer service, and we made sure our app is no exception. You can quickly and securely:
Deposit checks(2)
Make payments(3)
Initiate internal transfers(3)
Submit and approve ACH files and wire transfers(3)
No matter what you need to do, it's as easy as signing in. The design is simple, streamlined, and mirrors our goal to help you do what's right for your business.
Comprehensive Experience
When it comes to business banking, we have everything you need. An account with Plains Commerce gives you access to our expert team, checking and savings options, loans, and tailored financial solutions. And, as always, you can ask questions, make comments, and get insight directly from our business bankers.
Our app is an extension of our team and top-quality services. It's our way of giving you complete access to a robust banking experience, right at your fingertips. Simply contact your banker to get started today!
(1) Wireless data charges may apply. Fees may apply.
(2) $0.50 fee per deposit item and daily limits apply.
(3) Application and approval required.