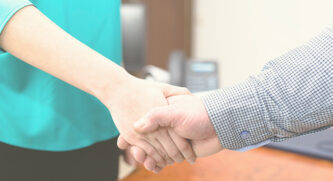 The home financing process is about to change. Whether you're a homebuyer, seller, realtor, or lender—all parties involved need to get up to speed.
TRID, which stands for TILA-RESPA Integrated Disclosure, will go into effect October 3, 2015.
TILA stands for Truth in Lending Act. RESPA stands for the Real Estate Settlement Procedures Act of 1974. So, what does this all mean?
At a high level, TRID will rearrange and combine key information from the two acts together. The goal of TRID is to prevent buyers from rushing through the home financing process.
After 30 years of lenders processing home loans the same way, the government believes this change will help buyers make well-thought-out decisions. Chris Vinson, EVP of Mortgage at Plains Commerce Bank, breaks down the new TRID rule, and what borrowers need to know.
3 major changes are coming with TRID.
1. Two new disclosure documents
The Loan Estimate
The Good Faith Estimate and the initial Truth-in-Lending disclosure will be combined into a new form called the Loan Estimate. It will provide disclosures that will explain key features, costs, and risks of the mortgage loan. The bank will give this to you no later than three business days after submitting a loan application.
The Closing Disclosure
The second document will combine the HUD-1 and final Truth-in-Lending disclosures. This form will help you understand the exact costs of your home transaction. The bank will provide a Closing Disclosure to you at least 3 days before the loan completion date (see new waiting period below).
Each new form should be easier to understand—allowing you to confirm you're getting a fair deal and grasp your financial responsibilities. Today, the separate documents can sometimes contradict one another, and it can be difficult to decipher true costs. Once October 3rd rolls around, number confusion should be a thing of the past.
2. New waiting period
With TRID, you will be required to take time when reviewing the terms of your loan before closing. The bank must deliver final numbers to you 3 to 7 days prior to closing, depending on how information is delivered to you. This waiting period is unavoidable. If you're ready to move into your new home right away, keep this new waiting period in mind. Planning ahead will help ease stress.
3. The clock can start over
Right now, the bank is able to change the HUD-1 Settlement Statement, which will become a part of the new closing disclosure, on closing day. This statement itemizes costs you'll be charged for financing your home. If you or the bank makes changes, the three-day waiting period could start all over. To prevent this scenario, talk with your lender and realtor to ensure everything is in order. Set time aside the first day you receive your closing disclosure to review information, if possible.
Not everything will cause time to relapse. For example, if you discover a malfunctioning or missing appliance during your walk-through, you won't have to wait longer. After TRID, three scenarios will make the clock start over:
Your annual percentage rate increases more than 0.125% for a fixed-rate loan or 0.25% for an adjustable-rate loan.
You're presented with a new prepayment penalty that will make it expensive to refinance or sell your new home.
Your loan completely changes. This may include a change from a fixed to an adjustable-rate mortgage.
Why did the government create TRID?
The government created this program to help protect consumers. Lawmakers believe consumers need more time to think and read through these life-changing documents. TRID will also increase transparency and, hopefully, reduce buyer stress.
Overall, the home financing process will likely start to go a lot smoother—preventing last-minute questions and disputes. And, eventually, this new process will become the norm. For those who haven't financed a home before (or in a while), this will be the only process they know—and hopefully a simplified one at that. For those who are well-versed in the home financing process, ensure you're working with a lender who will guide you through TRID.
Have other questions regarding TRID or home buying in general? Our mortgage team is in the know, and here to help.