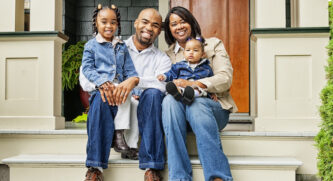 Getting pre-qualified will not tell you what type of mortgage program you qualify for, but how much you can afford to spend on a home. Pre-qualification is usually free, and there is no pressure to buy. Really, it should be the first step you take when house-hunting, as it will help you shop smarter.
Your pre-qualification amount is your maximum loan amount based on your debt-to-income ratio (your total monthly debt divided by your gross monthly income).
To get pre-qualified, typically you'll need:
estimated income (i.e., job wages)
estimated assets (i.e., property, savings, etc.)
estimated liabilities (i.e., credit card debt, current loans, etc.).
The lender may also need your permission to run a credit check. This will confirm your ability to pay for your mortgage. Note that if you're buying a home with your spouse or getting pre-qualified with another party, the lender will typically use the lower credit score of the two parties to determine qualification.
The power of a pre-qualification letter
Once you receive this letter, you can bring it with you during your search. If you have a realtor, send a copy of your pre-qualification letter to them—or have your mortgage banker send one on your behalf. Most letters expire, usually within 90 days, so don't delay. (If yours expires, the bank will need to review the numbers to pre-qualify you again.)
With the local housing market gaining momentum, many homes are selling faster and negotiations are becoming more competitive. This is where having a pre-qualification letter can really help. Your pre-qualification letter will give the seller confidence that your offer is viable. Many sellers tend to choose the buyer based upon their choice of financial institution noted in the pre-qualification letter.
Have questions about getting pre-qualified? Contact our mortgage bankers. We're here to answer your questions.