Jason Sundberg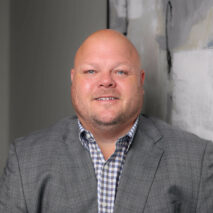 Jason Sundberg
VP/Business Banker
Meet Jason Sundberg. Born and raised in Sioux Falls, Jason is excited to be back "home". He is a Lincoln High School graduate and attended Southeast Vo-Tech. Jason has worked in sales since the ripe age of 14 and has been working to meet the needs of his customers ever since. He has sold everything from men's clothing to electronics and from jewelry to motorcycles.
"My grandpa and step-father were local bankers and encouraged me to enter into the Banking Industry after the birth of my first daughter," says Jason. "It was a great fit as I was able to provide financing for all of my prior customers and was able to stay in contact with friends I had made along the way."
Since transitioning to the financial field over 20 years ago, Jason has worn many different hats. "I've held the positons of Teller, Personal Banker, Branch Supervisor, Branch Manager, Senior Vice President, Market President and now VP Business Banker with Plains Commerce Bank," Jason says. "I have served on the front line, originated consumer-commercial and mortgage loans, managed multiple branches, opened new branches, closed underperforming branches, and everything else in between."

When Jason is not at the bank, he and his wife enjoy junking and refurbishing old items to create new treasures for their home. "We are the wannabe Chip and Joanna," says Jason. "I am also a gearhead at heart and have owned 110+ vehicles since I started driving. I prefer the old muscle cars over newer technology." He and his wife often frequent local cars shows and cruise nights. In fact, Jason met his wife at a car show!
The couple moved to Owatonna, MN in late 2015. "My wife is originally from MN and wondered what it would be like to be closer to where she was raised," says Jason. "The move was a great experience but confirmed loud and clear that Sioux Falls/Harrisburg is where home really is. We are excited to be back in Sioux Falls!"
Jason is the proud father of 4 beautiful daughters: Alexis, Hannah, Makayla, and Isabella.
Jason volunteers his time for Junior Achievement, Harrisburg Growth Initiative, Hartford Area Development Corp, Habitat for Humanity and several other boards that support the local community.
Fax
(605) 275-2466‍