CardValet

Protect Your Debit Card
Nobody wants their debit card to be lost or stolen, but it happens. Protect yourself with CardValet, and access help with the touch of a button.
Put the power of card security in your hands:
Complete Control: Turn your debit card off or on with just a few clicks of a button
Enhanced Security: Set your location (travel plans) where the card and be used and restrict your transactions to merchants within a range of your locations using your device's GPS
Flexibility: Easily set, customize, modify, and monitor your spending. Establish spending limits on all categories of transtions (i.e. gas, groceries, restaurants, travel, and more)
You'll have full control over when and where your debit cards are used—so if someone other than you is using it, you're able to turn off your card at the touch of a button. Find your card at the bottom of your gym bag the next day? No problem. You can turn it right back on from your mobile app as well.

To access CardValet:
Visit your device's app store
Search CardValet and down the free mobile app for CardValet
Click on the 'Get Started' button to create your account
Follow the prompts and use your card to enter the requested information
Log-in and start using CardValet
To get started, watch our video tutorial on CardValet.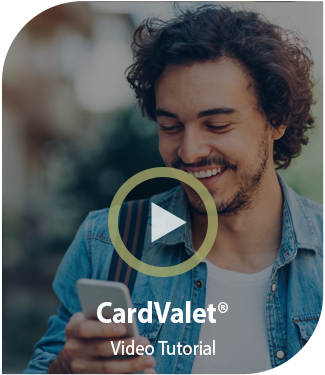 (i) Additional terms and conditions may apply.
(ii) Messaging and data rates may apply.
Personal Banking Team