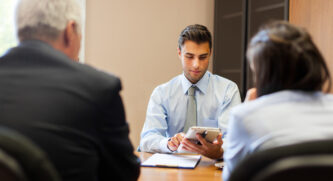 Opening a business is a big undertaking. Opening a business banking account? Easier than you think—and crucial to your business's success. Ryan Schneider, a Plains Commerce business banker and assistant vice president, explains everything you need to know about opening a business banking account.
Q: What is business banking?
"Business banking is a financial partnership between the business, its owners, and the financial institution. As business bankers, our priority is to be your dedicated point of contact and your 'go to' for all deposit and lending needs.
More than that, your business banker is your trusted resource—someone who is available to sit down with you and listen to your ideas for current and future growth (including the excitement and possible concern that goes with it!). We'll be your sounding board, providing honest and open dialogue and ideas on how to reach your destination as it relates to banking needs."
Q: Who is business banking for?
"This is for all types and sizes of businesses. We work with sole proprietors, companies with hundreds of employees, and everything in between. No matter your industry, whether that be service, retail, manufacturing, agri-business, real estate, construction, or development, we can help with your business banking."
Q: Why should I open a business banking account?
"As a business owner, you should utilize business accounts to separate your personal transactions from your business transactions. This helps maintain your accounting records relating to revenue and expense tracking, which is important for filing your business tax return.
Also, if you are looking to borrow money for real estate, equipment, an operating line of credit, etc., your business banker needs accurate and timely financial information for use in the decision-making process."
Q: What are the benefits of having an account?
"Business deposit accounts come with services that can improve efficiencies inside your company. Plains Commerce Bank offers tools that include:
ACH (Automated Clearing House) capabilities (most commonly used for direct deposit for employee payroll and paying vendors)
Wire transfers
Remote capture for depositing checks
All of these services are available to business banking customers through our online banking portal, and can be used at your convenience."
Q: When should I open an account for my business?
"For a new business, you should open your business deposit accounts before you start operations. That way, you can start tracking your income and expenses on day one.
If you're a new business in need of a loan to get your company started, you should contact a business banker before you start business operations. Your banker can then review your business plan and projections, and better understand your current goals as well your plans for the future. With this information, we can do more today that positions you for future success.
Our business banking team is fortunate enough to work with a wide variety of businesses and business owners—some of whom have decades of experience in their respective industries. We are in a unique position to learn from them and then translate that knowledge to your new business venture."
Q: How do I open a business banking account?
"We focus heavily on our processes, whether you are looking for a deposit account or a loan, meaning you can expect a smooth process from start to finish. No matter what type of account you need, we will tell you exactly what we need from you ahead of time. Once we have that documentation, you'll receive a timeline on fulfilling your request to meet your business needs."
Q: Why should my business bank with Plains Commerce?
"At Plains Commerce Bank, we are invested in your success, and are here to partner with you and your business by providing the banking services you need along your journey. We believe in strong communication, common sense, and treating all our customers with the same level of service and respect, whether large or small. We have the people and processes in place to handle your banking needs efficiently and we will provide a smooth experience for you from start to finish."
Still have questions?
Just let us know! We're here to help with all of your business banking needs, and would love to chat with you. Send us a note, give us a call, or stop by in person!