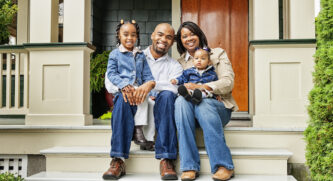 Mortgage rates have consistently hovered in the three percent range—a historically low trend—since 2011. Now, however, rates have risen and are expected to increase to more than four percent this year. Although that's still reasonably low (and half of the historical average), the increase has prospective homebuyers concerned.
Amid the uncertainty, we're here to help clear things up. Here are four pieces of advice when checking out this year's mortgage rate trends.
1. Don't hurry a purchase.
Mortgage rates saw an increase from around 3.75 percent to 4.25 at the end of 2016. They're expected to continue increasing throughout the coming year, but gradually. Only a one-percent growth is expected to occur by the end of 2017.
With that said, prospective homeowners should still take their time in finding the right loan at the right time. Trends can change—sometimes as quickly as overnight—and a potential rate increase is no reason to rush your decision or home buying process.
In the meantime, consider other factors as well. A good credit score makes all the difference when applying for a loan, so take the time to polish that while you're deciding. The higher your score, the possibility of a lower your interest rate and thus, you'll likely have more options.
2. Understand the loan process.
The mortgage process has a reputation for being complex and intimidating. However, Plains Commerce Bank's simplified process dispels many of homebuyers' biggest concerns, like the amount of time and up-front paperwork they'll have to deal with.
One month is a common timeline for the loan process. In some cases, though, we can accommodate closings within ten days of application. Additionally, we'll handle most of the paperwork and take that responsibility off your hands—while answering any questions you have.
"The whole mortgage process has really been streamlined. We've been hearing comments like, 'This is way easier than I thought it would be' at closing, which is what we like to hear," says Kevin Carlson, a Plains Commerce Bank mortgage banker.
3. Know your loan options.
When shopping for loans, it's easy to get distracted by all the options and, consequently, all the numbers. Even if rates are on the rise, there's a perfect mortgage loan for you—and we're here to help you find it.
One of the biggest numbers, and biggest stressors, for homebuyers is the 20-percent down payment. While a larger down payment lowers the interest paid over the life of your loan, it's not the only way to go. We have many options that require only 3 to 3.5 percent down, and some that require no down payment at all.
In addition to the standard fixed-rate options, adjustable rate mortgages (ARMs) start with lower rates and provide a variety of options for borrowers. An ARM remains fixed for three, five, seven, or ten years and then adjusts annually throughout the life of the loan. The adjustable rate can help you save big on interest.
4. Trust your hometown mortgage experts.
"Ask any sea captain—the best way to pare for uncertainty and unrest is to batten down the hatches before the storm hits. We are knee-deep in this market and know how to best capitalize on these favorable conditions," says Carlson.
Our bankers devote their days to analyzing homebuyers' situations and searching for the best possible loan scenario for you. Despite the unrest in mortgage trends in the upcoming year, Carlson says that "rates are great and home prices are strong." Now is still a good time to pursue your homeownership dreams, and we're here to help you reach them.
Contact one of our mortgage bankers to see what's right for you, or make an appointment to see us in person.