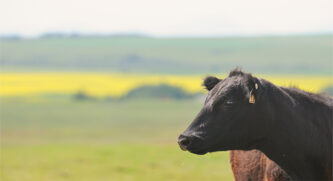 Fall has officially arrived and, with it, the harvest season. Farmers throughout the Midwest are wrapping up with this year's operations and preparing for their next move: evaluating how their farm's finances measure up.
But what does that really mean, and how do you measure it? Rodney Krantz, a Plains Commerce Vice President/Business Banker in Sioux Falls, has the answers that will help you measure your farm's financial performance.
What is my farm's financial performance?
This annual assessment outlines three major factors for your business:
Whether you made (or lost) money
How this year compares to the previous year(s)
How these numbers impact your operation's overall potential for success
Why does it matter?
Knowing your financial performance is a crucial step that keeps your business moving forward. Keeping accurate records every year tells you where your numbers are coming from—whether good or bad. You'll better understand what worked and what didn't, and be able to improve your operation from there.
How is it measured?
"The most common way to measure financial performance is by using the Earned Net Worth change," says Krantz. This year-by-year comparison determines how much an operation's net worth changed over time.
When is the best time to measure?
Often referred to as "renewal season," December through March is the break between the current year's harvest and next year's planting. This downtime presents the best time for measuring.
The time that works best during these months will depend on you and your farm. Whenever you decide to measure, plan for the same time every year to ensure more accurate reports.
"Operations should make a goal to prepare their balance sheet on the same date every year, or within a few days," says Krantz. "For example, preparing a balance sheet dated December 31 of the production year is a nice way to wrap up one year and move into the next. It also nicely coincides with preparing tax information."
What do I do with my farm's information?
Meet with your operation's management team–your lender, spouse, key employees, accountant, etc.—and discuss the results. Together you can identify what factors led to your financial results. Positive or negative, these factors will help you improve next year's performance.
By planning ahead, you'll know whether you need to get an ag loan for new equipment or expand your operation, or open a checking or savings account specifically for your operations.
Where do I start?
Working with a lender forms a partnership that benefits you and your operation. At Plains Commerce Bank, our business bankers have the expertise to help you accomplish your goals while identifying and managing risks.
"We strive to add value to our customers' businesses by helping them understand why we collect this information and run these calculations every year," says Krantz. "Knowing this information helps owners and managers make important decisions that help their operations succeed."
If you're interested in measuring your farm's financial performance, contact our team or stop by your nearest location.