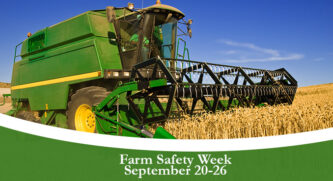 As a farmer and business owner, we know your hands are full. Optimizing every hour of every day is essential—especially during fall harvest.
When rushing or trying to cram work in before weather changes, safety needs to stay top of mind. This is when accidents tend to happen.
Get the job done fast and stay safe. Assistant Vice President and Business Banker Teresa Veflin (NMLS# 881964) offers tips to keep in mind during Farm Safety and Health Week (September 20–26, 2015) and beyond.
Don't skip equipment safety checks.
While farm equipment gets work done more efficiently, it also imposes some of the greatest safety risks. Maintaining your equipment is the key to minimizing hazards.
Proper maintenance can reduce the risk of emergency maintenance. When you're busy, it can be tempting to skip fixing safety hazards that don't interfere with the machine's functionality. Don't put yourself in this situation. Make even the smallest repairs before the harvest starts. Then, once everything is ready to harvest, you won't have to waste any time getting the job done.
Some specific areas of concern revolve around tractors. The PTO (power take-off) shaft on the tractor is often one of the most dangerous parts. Ensure you have a safety shield or guard around it. Long hair and loose clothing can get caught and pull a person in, which can lead to serious injury. If you don't have a guard, install one or avoid wearing loose clothing around it and tie back long hair. Practice similar safety precautions around combines.
You can prevent tractor rollovers with some safety checks as well. If possible, use tractors with a ROPS (rollover protective structure) along with a seat belt. This frame prevents injury and death in the event of a rollover. You can also prevent rollovers by adding weights. This is even more important for farmers working on slopes, such as ditches, and improves traction.
Farmers moving their tractors on country roads also take risks. When fast cars and slow equipment share the same road, both parties need to take extra precautions. When driving farm equipment on a public road, be sure that your lights and reflective cautionary signs are visible to passenger vehicles. Also keep flares and cones with you if you're using the road. You'll need this if your equipment breaks down. Safety chains are also a good idea (and mandatory in some areas). This way if the hitch breaks, you can still move off the road promptly.
Check your tire pressure, lights, and safety features, too. Always perform a maintenance check before using equipment.
Stay alert and healthy.
During fall harvest, it's easy to get worn out in a short period of time. Get plenty of sleep, when possible. Also try to eliminate distractions. More farmers have their cellphones out in the fields with them, which is great for emergencies. However, phones are also distracting. If you're operating machinery, stay 100% focused on the task at hand.
If you have young children on the farm, shut down equipment when not in use. Kids, even if they know better, don't always listen.
When you're doing your other equipment safety checks, this may also be a good time to test the smoke detectors in your outbuildings. Also purchase and check your severe weather radio before heading out into the field. If you're going to be out all day long, you'll want to get advanced warning of bad weather.
In addition to safety, you need to keep yourself in good health. Even in the fall, practice sun safety. If you're out all day long, wear a wide-brim hat and sunscreen, and stay hydrated.
Financially prepare for anything.
As a farmer, you're also the head of your operation. A good manager will financially prepare for every aspect of his operation. Ensure that you have a solid grasp on what needs to be paid for when, and know where your money is coming from.
Prior to harvest, fill your fuel tank, make all repairs, gather miscellaneous supplies to have on hand, and hire enough workers to complete the work.
From a marketing perspective, especially as harvest approaches, a good manager will closely monitor the grain markets. Maximize your revenue by pricing grain accordingly. You should also plan for accidents. While you can do everything in your power to prevent them, sometimes— unfortunately—accidents happen. (This is why most people are required to have certain precautionary coverages, like car insurance.)
It may be wise to get a contingency plan that goes into effect in the event of an injury. This should include cash to cover expenses related to the accident.
Bottom line: be prepared.
Equipment issues play a role in many accidents. Long hours, often working well past nightfall, can cause anyone to lose focus and contribute to mishaps. Maintaining your equipment, exercising caution, and not doing too much at once can avert a good share of farm accidents.
We're so grateful for all the farm families Plains Commerce Bank has come to know over the years. We hope you take these friendly reminders from some folks who really care.
Have a safe harvest season!
Resource:
http://www.necasag.org/aboutnecas/nationalfarmsafetyandhealthweek2015/