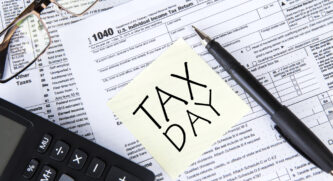 This post was updated from its original version on February 4th, 2016.
If you received a refund from Uncle Sam this year—or still have one coming—take a moment to think about where that money will benefit you most. After all, it's not every day you end up with an extra sum of cash in your bank account. According to USA TODAY, last year 33% of Americans plan on saving or investing their tax return. Beyond paying off high-interest credit card debt, you can make even more money by allocating your tax return dollars wisely.
1. Invest in a money market account
Invest part of your refund in a money market account. Money market accounts are typically higher savings, higher interest rate accounts than a general savings account. They also require a higher minimum balance, such as $1,000, depending on the type of money market account you choose. With this account, you'll still have the ability to write checks and withdraw funds—just monitor your balance. Otherwise, you could end up paying a service fee if you drop below the minimum.
2. Add value to your home
Use it for things you know you need, such as a water heater, furnace, or air conditioning system that's about to go. You can also work on home remodeling projects that add to the value of your home. According to Remodeling's 2016 Cost vs. Value Report, the highest value projects in the West North Central region are:
manufactured stone veneer
fiberglass attic insulation
minor kitchen remodel
fiberglass entry door replacement
steel entry door replacement
While not all of these projects may recoup the upfront costs in full, it may help you decide how to prioritize your home improvement wish list.
3. Start or build your savings account
In Bankrate's 2015 Financial Security Index survey, 29% of Americans claim to have no emergency savings. On the opposite spectrum, 22% claimed to have enough savings to cover over 6 months worth of expenses.
No matter if you're saving for a rainy day, a trip, or college, saving is a smart financial move—especially if you can earn some interest while you do it. Open or add to your existing savings account. While traditional savings accounts don't typically require a large deposit (like a money market account), be sure to monitor your cash flow as there may be a small minimum balance. If you're just starting your search for the perfect savings account, shop around for different interest rates, even within the same bank.
Know you have many options to build on your tax return. Some of these ideas require a larger investment than others. Account for the amount of your refund before deciding what to do, too.