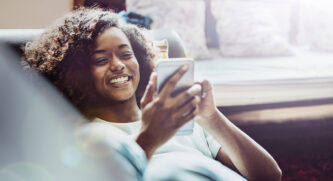 When it comes to security, the safety of your financial information is likely near the top of your priority list. With the conveniences of online and mobile banking, you can now access your information from anywhere. But with banking basics just a click away, how secure is your account information? Our e-services experts weigh in on the best practices to keep your information safe.
"As smartphones and tablets become increasingly popular, it is essential that your device is configured to protect any sensitive information," says Jodie Kannas, Assistant Vice President/E-Services Administrator.
Safeguard your financial assets and study up on best practices when it comes to your banking. You could start with these six steps to safer mobile banking:
Never provide personal identification or banking information over your mobile device unless you initiate the contact and you know that you're dealing directly with your bank.
Assume any unsolicited text for personal or banking information request is fraudulent. Giving this information places your finances and privacy at risk.
Avoid sharing sensitive information such as your password, account
number or answers to security questions. Don't save this information anywhere on your mobile device or phone.
Don't set the online or client-text service to automatically log you in to your bank account. If your phone is lost or stolen, someone will have free access to your money.
Set the phone to require a password to power on the handset or awake it from sleep mode.
Immediately tell your bank and your phone service provider if you lose your phone.
Security is important, and it is our goal to provide you with a safe mobile banking experience. While it is our hope that our customers will never undergo a financial security hack, it is important to be prepared. If you have any additional questions about protecting your account, please contact us.