Trevan Korthour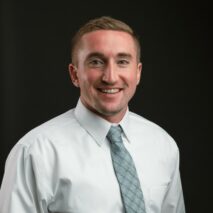 Trevan Korthour
Business Banker
Meet Trevan Korthour. Trevan grew up in Watertown, South Dakota, and worked on his grandparents cattle ranch in Waubay, South Dakota, so he's no stranger to hard work. At his previous job, Trevan's customers worked with grain elevators and cooperatives. His experience growing up on a farm and later working with farm customers gives him vast knowledge when assisting Plains Commerce customers with their family farm operations.
As a banker, Trevan enjoys the opportunities to get to know customers and their needs.
"I like creating new relationships with people and helping them get the help they're looking for," Trevan says. "I get to provide a service to all customers that may need some assistance from the bank to help keep their family farm operating or to possibly start a new business venture."

Trevan works in Aberdeen and likes that the city is big enough to provide plenty of options of things to do but small enough that he doesn't have to spend hours stuck in traffic. When he's not at the bank, Trevan likes golfing in the summer, playing in a soccer league and basketball rec league during the summer and winter, and pheasant hunting in the fall.
Trevan visits his family and friends whenever he has the chance. His family lives in the area, so he is able to see them often. Trevan and his girlfriend, Katie, like to spend time playing with Trevan's Saint Berdoodle, Dirk.
Fax
(605) 275-2466‍