Traditional Values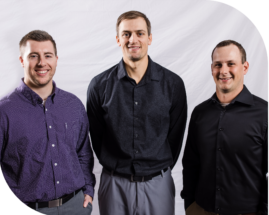 For the last 90 years, Plains Commerce Bank has been rooted in Traditional Values. For us, that means focusing on the real relationships we form with our customers. It's not about getting customers - it's about getting to know customers.
We believe in being a handshake and 'look you in the eye' company. We want you to know who you're doing business with, which is why we'll meet you one-on-one, face-to-face in a setting that works for us both, whether that's in the office or out on your farm. And that's what makes us different.
Representing the "grit" in integrity
In 2012, we opened our loan production office in Mitchell. Three years later in 2015, we opened our full service branch so that we could better serve Mitchell and the surrounding communities.
Opening a Mitchell branch was a huge step forward for us. We believed then, as we still do today, that we have common ground with Mitchell community members. Our Midwestern roots are perfectly represented in Mitchell, where we see thriving farming and ranching operations. Like you, we believe that the best way to lead is by action, not by words.
Just like the strong roots beneath your acreage, our roots are growing with the real relationships we have with our customers.
In order to form those relationships and be the businesspeople you deserve to work with, we pride ourselves on embodying three important traits:
Loyalty
Authenticity
Consistency
In this community, we see Loyalty every day. We help each other through the good times and the bad. We do what we say we're going to do, and we're there whenever a friend, a neighbor, or a colleague needs us. From events like the Delmont tornado in 2015 to flash floods in Mitchell in 2019, those of us in the surrounding areas have weathered many seasons. But no matter what the struggle, we come through it the same way each time: together.
We know who we are, and we're proud of that Authenticity. We're not afraid to speak up for ourselves and each other, and we work hard to create a welcoming community where everyone, whether they've lived here all their lives or a few short months, feels comfortable being themselves.
We stand by what we said and what we did, because Consistency is integral to maintaining a real relationship. We consider how our actions impact those around us, and we do our best to do what's right. But we remain humble and willing to learn from our mistakes, because we know that knowledge helps us grow, and growth pushes us forward.
Loyal, authentic, consistent: That's the kind of folks we are here in the Mitchell community. The grit you show as you weather each season inspires us at Plains Commerce Bank to do the same for you. We stand on our integrity, which means we won't just say it, we'll do it.
Because at Plains Commerce Bank, we believe that well done is better than well said.
All credit and loan programs are subject to credit approval.