Results Matter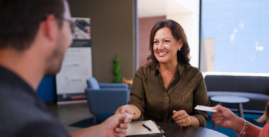 At Plains Commerce Bank, Results Matter. We don't confuse activity with achievement because we believe that putting in time isn't the same as doing the work. It's about following through on your actions and ensuring that the time you've spent on a project makes a difference.
For us, hard work, tenacity, and focus are integral to achieving real results. Our team works together to reach our goals by lifting each other up, lending a helping hand, and looking out for the best opportunities for our team's success.
It takes time to create real, effective results. And it isn't always easy. But it is always worth it.
Our Plains Commerce team is dedicated to giving the time and energy to make results happen. That's why we believe in the 4 D's:
Driven
Determined
Decisive
Disciplined
These aren't just catchphrases here. These are values we use to direct us every day, both in and out of the office. We hold ourselves accountable to these guiding principles and encourage our friends, family members, and colleagues to strive for the same standard.
And we see these same qualities every day in the Mitchell community.
Here in Mitchell, we know how hard community members work to see real results. Whether in business, housing, farming and ranching, education, or even their daily lives, we in Mitchell hold ourselves to a high standard of success and achievement. We work hard to build each other up and see results come to life.
Mitchell is a thriving community, which is especially evident in our manufacturing industry. There are so many businesses working so hard to create products that benefit our community, the state, and even the nation. These determined businesses are always making a difference, and we are so lucky to have people making such an impact in our hometown!
In Mitchell, we believe in putting our energy back into the community. Our community members are driven about giving back! Faculty and students at the colleges in town work hard to make a difference, both in the classroom and out of it. We see so many of you taking the skills and traits that you learn at school and applying them in the community, and that's a wonderful gift! It's this work ethic that keeps driving our community forward.
To see our actions create results, we have to be decisive about pushing the community forward to grow. Tourism is one of the major factors pushing this growth. Our location in the state and the attractions within our town make it a perfect tourist spot! Our community has proven that it can continue to thrive, even with the unprecedented challenges caused by the COVID-19 pandemic.
And all of these wonderful things are driven forward by our disciplined community members who show up for their communities each and every day. We all work hard to provide goods and services to our town because we believe in its possibilities and its people. We all want to see each other succeed.
Because when Mitchell wins, we all win.