Rooted In Our People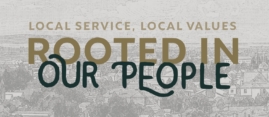 Our people are the roots that makeup Plains Commerce Bank. We believe that a company is only as good as its people and ours are pretty great. This is why we always put our people first and emphasize the balance between life and work. Unity, empathy, and respect create a sense of family and we believe coming together as one is the creation of a community.

Friendly, approachable, trustworthy, and honest. These are at the root of our relationships with our customers. At Plains Commerce Bank, we are passionate about helping you realize your dreams. We're in this together, which means your priorities are our priorities. And we take that to heart.


At Plains Commerce Bank, we have deep roots in the communities we serve. We invest in community involvement and improvement by creating jobs and proudly supporting local businesses. With our competitive rates and convenient services, you'll find increased potential for growth and success. Our combination of values from the past and technologies of the future helps to strengthen the local economy.

Plains Commerce Bank has been rooted in the history of our community since our small town beginnings. And we're part of the community, so you'll not only find us at the bank—but around town, too. Whether at the office or the grocery store, we are dedicated to the growth and success of Sioux Falls.

Our core values run deep throughout Plains Commerce Bank. We believe that authenticity, transparency, consistency, and loyalty are the foundation of integrity. That means we do what's right even when no one's looking. We also believe that well done is better than well said, which is why you can count on us to honor our word.


Sioux Falls, SD - East 10th
Sioux Falls, SD - West 49th
Sioux Falls, SD - East 57th