Transfer the Cents

Saving Extra This November
Transfer the Cents already makes saving easy and automatic by rounding up each PCB debit card transaction to the next whole dollar amount. Now through the end of November, we will match your total savings for the entire month—that means 2X the savings—up to $50. We'll deposit the extra savings into your designated account on the week of December 6.
With Black Friday and other holiday shopping on the horizon, there couldn't be a better time to enroll in our Transfer the Cents program. It's essentially getting paid to spend. And that just makes cents.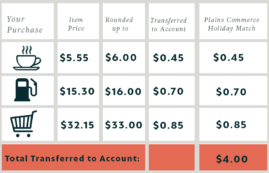 How to enroll:
Gather your Plains Commerce Bank checking and/or savings account numbers
Contact your local banker
Download, review, and return the Transfer the Cents enrollment form
Drop the form off to your banker or send via email

(i) Additional terms and conditions may apply.
(ii) Messaging and data rates may apply.

Customer must be enrolled in Transfer the cents and cannot be cancelled during the promotion time. If Transfer the cents is cancelled during the promotion you will be ineligible to receive the promotional credit.
Personal Banking Team