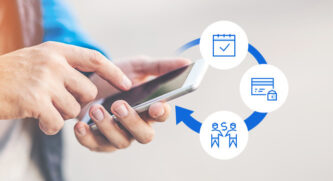 We set our customers up for success at Plains Commerce Bank. One way we've done that is through our mobile banking app. We designed it with you in mind. Instantly gain access to all of your banking information with a simple tap of your finger. Read on to learn more about the benefits of mobile banking and why it makes perfect sense for everyone.
Convenient
We know life gets busy, and there's not always time to run to the bank. Banking 24/7 is possible with our mobile banking app. Whether you're in the field or at a tee-ball game, bank whenever and wherever it's convenient for you. Depositing a check? No need to wait until you can make it to the bank. All you need is your smartphone and our mobile banking app. Simply endorse your check and snap a photo of both sides. Your transaction is then processed quickly, saving you time (and gas).
Paperless
No more sifting through piles of papers. Now you can access past and present statements easily through our mobile banking app. Our app makes it a breeze to keep track of your spending history and account balances. The best part? You don't have to worry about losing a paper statement ever again when you sign up for e-Statements. Find everything you need in one place sorted by date. Leave the organizing to us and push those papers to the side. It's safe and secure.
Free Online Bill Pay
Avoid late fees by paying bills directly through our mobile app. Set up reminders when payments are due or set up automatic recurring payments. We want to make paying bills as stress-free as possible. Keep track of all your bills in one place and view the details and status of your scheduled or completed payments. Your online credentials safeguard your bills, so only you have access to them.
Easy
Using our mobile banking app is easy. Take a video tour and see firsthand how it works. Download our app in the Apple App Store® or Google Play Store™ and start banking on your own time. We take your banking personally at Plains Commerce Bank and are happy to answer any questions you may have.