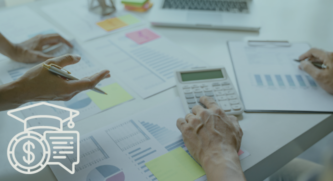 April is Financial Literacy month.
In 2004, the U.S. Senate passed a resolution naming April financial literacy month. Since then, as a community bank Plains Commerce has been proud to support and promote this across our markets.

In the U.S., financial literacy is extremely important because individuals are largely in charge of securing their own financial future. From earning, spending, saving, budgeting, and investing, each of these play a key role in teaching individuals how to properly manage their personal finances.
When you take a step back, navigating today's financial world can seem like a daunting task. We live in the age of digitization and with that, fintech apps have made it easier than ever to access financial services, learning tools, budgeting software, and investment apps. Whether it's on your laptop, tablet, or cell phone, you can literally have your entire financial life at your fingertips.
But how do you manage all of this without first learning about personal finance?
A recent Bankrate article detailed the following.
Only 4 in 10 Americans have enough savings to cover an unplanned expense of $1,000
35% of those surveyed would have to borrow the money in some way
44% of adults who can cover the $1,000 emergency expense is the highest in eight years, but still relatively low overall, if you think about the grand scheme.
With prices rising at the fastest pace in 40 years, consumers can be heard saying that this is directly inhibiting their ability to save money. As a community bank, one of our pillars is to be a go-to resource helping educate our customers and the general public on timely financial topics.
Join us as we celebrate Financial Literacy month and be on the lookout as we delve more deeply into how you can better your financial situation.