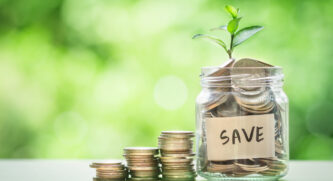 Tips for Saving in the New Year
Still trying to nail down your New Year's resolution? Why not invest in yourself and your future and start saving?
Establishing a savings plan can be daunting. We spoke with a few of our bankers about ways to save money throughout the year. With these tips, stashing your cash will be easier than ever.
Set a Savings Goal: Retail Banker Jordyn Winter said that knowing what you want to save for will allow you to figure out how much money you will need and how long it will take you save it. Whether you're saving for an emergency fund, future vacation, a down payment or even just for fun - having a goal will help you get there!
Create a budget: Having an outlined budget makes it easier to see in what areas of spending you can cut back, says Jordyn. You can still treat yourself, but a budget will help limit extra spending.
Request Cash Back: Retail Sales Manager Vicki Jorgensen suggests asking for cash back on purchases. To save up for her son's wedding, Vicki requested $5.00 back on every purchase she made, then put that money away for the wedding. You'll be amazed how quickly it adds up!
Make Simple Changes: AVP/Retail Banker Phil Bedinger says that quick and easy ways to save are things like shutting off the water while you're brushing your teeth or shaving, turning down the thermostat when no one is home and taking advantage of sunny days by opening the windows. These simple switches can save more money than one would think!
Enroll in Transfer the Cents: Vicki, Phil and Jordyn all recommend Transfer the Cents. By using your debit card, you will automatically save from each purchase by rounding up each transaction to the next whole dollar and transferring the extra change to the savings account of your choice.
Skip the Coffee Run: As hard as it sounds, try skipping your morning trip to the drive-thru, Vicki says. Brew coffee at home instead. You'll still get your caffeine boost while saving money!
Set Up Monthly Transfers: Make your savings automatic by setting up monthly transfers to your savings account. This way, you don't have to remind yourself to save the money – it'll happen on its own!
Work on Projects Yourself: To keep more cash in your savings account, Phil recommends doing small projects yourself. Take care of things around your house like insulating indoor water pipes that run along exterior walls to reduce the risk that they'll freeze and burst, checking your roof for leaks and loose shingles, clearing leaves from the gutter, and fixing leaks in sinks and toilets.
As the New Year starts, it's the perfect time to start saving. Small changes to your current spending habits can result in big rewards!