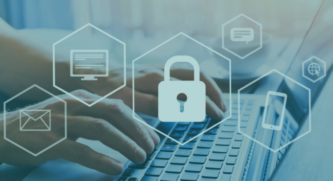 Written by Chief Information Officer, Luke Schwingler
With cybersecurity awareness month on the horizon (October), our focus at Plains Commerce Bank is to help everyone recognize the importance of good personal cyber hygiene year round. Regardless of your view on technology, it's become an essential component of our daily lives. From text messages to online shopping to video chats with the grandkids, below you'll find a few tips to help keep your information safe.
Good cyber hygiene encompasses many things based on your use of technology but can be boiled down into a few core categories:
Update your software
Companies release software updates all the time for apps, operating systems and browsers that fix vulnerabilities attackers go after. Many common devices are set to automatically update but it's always good to verify.
Check your settings and enable automatic updates to keep your device protected. If you don't have an automatic update option, make a reminder to perform those updates yourself on a consistent basis.
Updating software is not only good for your computer but for your phone, smart devices (thermostats, smart speakers (Alexa, Google Home), cameras, etc.) as well.
Protect your accounts
The majority of security breaches that occur happen because strong authentication options weren't enabled.
Besides running updates on your devices, protect your accounts with strong passwords and enable multi-factor authentication (MFA). MFA provides a secondary approval method (usually text message or email code) to prove you are the one logging in.
When it comes to picking a password, be unique every time and follow these recommendations: Use at least 12 characters and include upper case, lower case, numbers and special characters. Password vaulting tools are great at helping generate these types of passwords and remembering them so you don't have to!
For more, check out this password checklist.
Back up important data
As an extra precaution, back up your important data. Save copies of your files to an external storage device, like a USB flash drive or an external hard drive while making sure to unplug that device when not in use. Using cloud storage providers (OneDrive, Google Drive, DropBox, etc.) is a great option but make sure to protect your account with the recommendations above.
Think before you click!
The primary way attackers try to get your information is through phishing emails or texts. These messages are intended to look legitimate and entice you to click and link or download a file that is malicious. Here are a few things to look for that will help you spot the phish:
Was I expecting this email or text?
Is the sender familiar?
Is the domain name spelled a little different (pl@ainsc0mmerce.com for example)
Is the message trying to create a sense of urgency so you don't think and just click?
Trusted companies (like Plains Commerce Bank) will never message you and ask for personal information. When in doubt, pick up the phone and call the person or company directly.
By adding these practices to your technology routine, you will increase your cyber hygiene and frustrate scammers at the same time.
Source: Cybersecurity advice to protect your connected devices and accounts | Consumer Advice (ftc.gov)