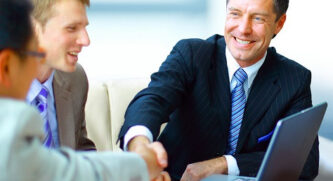 At Plains Commerce Bank, we understand the need, value, and importance of continuous professional development. In January of this year, our mortgage department, led by Executive Vice President Chris Vinson, began providing local Sioux Falls realtors with a series of monthly lunch and learns to provide a wide range of topics that directly affect their day to day work. "Providing these educational programs allows us and local real estate agents to work together on our businesses because at the end of the day, our ultimate goal is to help the consumers," remarks Vinson.
We kicked off our first series with local digital marketing expert Rohn Gibson, Vice President of Client Strategy at Click Rain, Inc. Gibson discussed the different platforms available to brand yourself effectively in today's ever-changing digital world. He touched on a few of the more well-known platforms of Facebook, Twitter, LinkedIn and the value of knowing the importance that each is designed for different audiences and uses. Gibson also mentioned that if you don't have a website, now is the time to build one. There are many websites to choose from that make it easy to create and manage a personal site.
In February Brett Adney, Director of Home Ownership with the South Dakota Housing Development Authority (SDHDA), made his way from Pierre, SD to provide details on South Dakota's top financing programs. From the first-time homebuyer program designed to provide low interest fixed rate home loans and cash assistance to the down payment and closing cost assistance program offered with fixed rate plus loans.
Clark Noteboom, Owner of Noteboom Appraisals, stopped by in March to tell us everything we need to know about appraisals. As a bank, we know what a vital factor an appraisal is when purchasing a home. Noteboom touched on key points such as: what typically does the inspection focus on (i.e. the condition of the home, layout and features, updates and quality of construction), who pays for the appraisal, and tips on what to do if your appraisal comes in too low.
Just last week we hosted our April lunch and learn series with guest John Billion, President of Getty Midwest. Billion explained that a 1031 is an exchange of property held, investment or productive for use in business, to defer or reduce capital gain recognition and allow exchangers to reinvest money that would otherwise pay taxes. Billion touched on a number of factors that go into a 1031 and when the most beneficial time for sellers is to utilize this option.
Our next lunch and learn is slated for May 14-15. Interested in attending? Contact us at pcbmortgage@plainscommerce.com