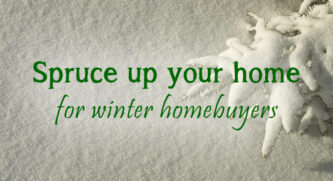 Getting your home ready for showings can take a lot of work. And selling your home in the winter—especially a snowy, cold month—can bring new challenges.
We've put together a few ways you can make your home ready to sell that don't cost a fortune.
Keep your sidewalks and driveways safe.
It's that time of year where the shovel and snow blower are always at hand. If you live within city limits, keeping your sidewalk shoveled is required, but even if you live in the country, you don't want to force potential homebuyers to trudge through snow and ice piles. This isn't the first impression you want to make.
Snowy walkways can also be dangerous, and you may be liable for slips and falls on your property. Keeping paths clear and salted prevents slips and falls, while also making it look like you take good care of the house. This can be a good indicator to buyers and sets a nice tone before they enter the house. Be sure to leave ample space for visitors to park in, too.
Light up your fireplace.
A warm home is an inviting home. You don't want homebuyers to think that your house is hard to heat. Using your fireplace when you have an open house or walk-through can not only provide extra heat, but also give your home a cozy feel.
If you haven't used your fireplace in a while (or ever) get it inspected and cleaned by a professional. While fireplaces can be an attractive feature in homes, they can also be a liability and damage your home and health if not used with care. If you have a wood fireplace, get a screen for it, get it swept, and ensure there isn't creosote build-up, which can cause a house fire. If you have a gas fireplace, make sure it's properly vented and in working order, too.
Revive rooms with rugs and curtains.
Often sellers will paint walls to make their home more attractive. Over time, wall colors go out of style, get dirty, and show scuff marks. Since winter isn't usually a good time to paint, try sprucing up a room with simple, inexpensive accents like rugs and curtains. Sometimes an area rug or bright curtains can make a world of difference in a room. And since you usually leave window coverings with a home, make sure they're a perfect match for the space. Stick with neutral patterns and colors or ones that match the look and feel of the home.
Eliminate dust.
Dust can build up even faster in the winter, and homes with forced air are the worst when it comes to dust. Prevent additional dust from spreading around your home by replacing your air filter at least every 3 months. Also have a Swiffer® Sweeper handy for collecting dust on hard surfaces and floors. You don't want someone to sneeze the minute they walk in the door. You also want your home looking polished. If you have rugs and carpets to vacuum, it's best to vacuum them first and then dust, as the vacuum will kick up new dust particles.
Add a simple scent to your home.
According to the WSJ (Using Smell to Make a Sale), simple smells like lemon and basil can actually help get a homebuyer in the right mindset to buy. If you're worried about using artificial candles, plug-ins, or sprays, you can find these natural ingredients at your local market or grocery store. Don't overdo it though. You don't want a smell that makes buyers wonder if you are trying to cover up something worse. Keep it simple.
Get selling.
Selling your home in the winter (or really any time of year) takes effort. By creating a safe and inviting atmosphere, you can make your home even more appealing to buyers.
If you're looking for other advice when it comes to financing a home, our mortgage banking team is here to help. We're a phone call or email away.